Weighing Platform PBA429-QB60
For Demanding Applications.
High Durability
The rugged, full stainless steel frame & the hermetically sealed load cell ensures a long life time also when used in harsh, wet & humid environments (IP68/IP69k).
Easy to Clean
The open and sturdy platform design is built according to hygienic standards and allows fast, thorough and easy cleaning.
Hygienic Design
To easily reduce on site-contamination, this platform features a hygienic-kit, containing specially designed leveling kits and overload stops.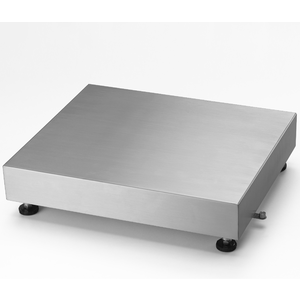 Product Family:platform-scale00040115
Specifications - Weighing Platform PBA429-QB60
| | |
| --- | --- |
| Maximum Capacity | 100 lb (60 kg) |
| Readability | 0.01 lb (5 g) |
| Repeatability(sd) | 0.0047 lb (2.1 g) |
| Platform Size (LxHxW) | 12 in x 4.25 in x 12 in (305 mm x 108 mm x 305 mm) |
| Material | Stainless Steel V2A (AISI 304) |
| Protection Rating | IP69k; IP68 |
| Scale Interface | Analog |
| Hazardous Approval | No |
| Readability (Certified) | 0.02 lb (20 g) |
| Repeatability | 5 g |
| Repeatability, typical | 2.1 g |
| Repeatability (typical) | 0.0047 lb |
| Dimensions (LxHxW) | 12 in x 4.25 in x 12 in (305 mm x 108 mm x 305 mm) |
| Weighing Pan Dimensions (LxHxW) | 12 in x 2.24 in x 12 in (305 mm x 57 mm x 305 mm) |
| Cable | 9.9 ft (3 m) |
| Environment | Wet & Harsh Wet (>/=IP66) |
| Dimensions/Platform Size | </=400 mm; from 6.3" to 15.7" |
| Legal for Trade | NTEP; OIML |
| Hazardous Area | Non-hazardous area |
| Hygienic Design | No |
| Linearity, typical | 20 g |
| Linearity (typical) | 0.02 lb |
| Linearity | 0.02 lb (20 g) |
| Platform Type | Bench Platforms |
| Material Number(s) | 72229531 |
Maximum Capacity:100 lb (60 kg)Maximum Capacity:100 lbMaximum Capacity:60 kgReadability:0.01 lb (5 g)Readability:0.01 lbReadability:5 gPlatform Size (LxHxW):12 in x 4.25 in x 12 in (305 mm x 108 mm x 305 mm)Platform Size (LxHxW):12 in x 4.25 in x 12 in (305 mm x 108 mm x 305 mm)Readability (Certified):0.02 lb (20 g)Readability (Certified):0.02 lb (20 g)Environment:Wet & Harsh Wet (>/=IP66)Environment:Wet & Harsh Wet (>/=IP66)Dimensions/Platform Size:</=400 mm; from 6.3" to 15.7"Dimensions/Platform Size:</=400 mmDimensions/Platform Size:from 6.3" to 15.7"Legal for Trade:NTEP; OIMLLegal for Trade:NTEPLegal for Trade:OIMLHazardous Area:Non-hazardous areaHazardous Area:Non-hazardous areaHygienic Design:NoHygienic Design:No
Documentation