Weighing Platform PBA226-B60
For Short Time Wet Environments.
High Durability
The rugged, electro polished full stainless steel frame ensures a long life time also when used in demanding applications (IP65).
Easy to Clean
The open and sturdy platform design, built according to hygienic standards, allowing fast, thorough and easy cleaning.
Damage Protected
Optimally placed and specific adjusted overload stops grant the best possible protection against load cell damaging.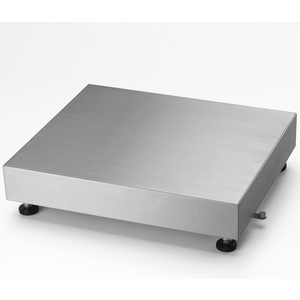 Product Family:platform-scale0004000300080008
Specifications - Weighing Platform PBA226-B60
| | |
| --- | --- |
| Maximum Capacity | 100 lb (60 kg) |
| Readability | 0.01 lb (5 g) |
| Repeatability (sd) | 0.01 lb (4.6 g) |
| Platform Size (LxW) | 15.7 in x 19.7 in (400 mm x 500 mm) |
| Material | Stainless Steel V2A (AISI 304) |
| Protection Rating | IP65 |
| Hazardous Approval | No |
| Readability (Certified) | 0.02 lb (20 g) |
| Repeatability | 0.01 lb (5 g) |
| Cable | 7.5 ft (2.3 m) |
| Applications | Over Under Checkweighing; In motion Weighing / Dynamic Weighing; Thermal Values; Simple Weighing |
| Legal for Trade | OIML |
| Resolution | 0.02 lb (20 g) |
| Hygenic Design | No |
| Linearity (typical) | 0.02 lb |
| Linearity | 0.02 lb (20 g) |
| Linearity, typically | 20 g |
| Maximum Capacity | 50 kg |
| Platform Type | Bench Platforms |
| Readability (Certified) | 10 g |
| Scale Interface | Analog |
| Material Number(s) | 72229495 |
Maximum Capacity:100 lb (60 kg)Maximum Capacity:100 lbMaximum Capacity:60 kgReadability:0.01 lb (5 g)Readability:0.01 lbReadability:5 gRepeatability (sd):0.01 lb (4.6 g)Repeatability (sd):0.01 lb (4.6 g)Platform Size (LxW):15.7 in x 19.7 in (400 mm x 500 mm)Platform Size (LxW):15.7 in x 19.7 in (400 mm x 500 mm)Material:Stainless Steel V2A (AISI 304)Material:Stainless Steel V2A (AISI 304)Protection Rating:IP65Protection Rating:IP65Hazardous Approval:NoHazardous Approval:NoReadability (Certified):0.02 lb (20 g)Readability (Certified):0.02 lb (20 g)Repeatability:0.01 lb (5 g)Repeatability:0.01 lb (5 g)Cable:7.5 ft (2.3 m)Cable:7.5 ft (2.3 m)Applications:Over Under Checkweighing; In motion Weighing / Dynamic Weighing; Thermal Values; Simple WeighingApplications:Over Under CheckweighingApplications:In motion Weighing / Dynamic WeighingApplications:Thermal ValuesApplications:Simple WeighingLegal for Trade:OIMLLegal for Trade:OIMLResolution:0.02 lb (20 g)Resolution:0.02 lb (20 g)Hygenic Design:NoHygenic Design:NoLinearity (typical):0.02 lbLinearity (typical):0.02 lbLinearity:0.02 lb (20 g)Linearity:0.02 lb (20 g)Linearity, typically:20 gLinearity, typically:20 gMaximum Capacity:50 kgMaximum Capacity:50 kgPlatform Type:Bench PlatformsPlatform Type:Bench PlatformsReadability (Certified):10 gReadability (Certified):10 gScale Interface:AnalogScale Interface:Analog
Documentation