ICS241-15003/M-EU
Efficiency for Counting.
Excellent Readability
Intuitive alphanumeric keypad and LCD display text and graphs clearly. Choose the best display style for your needs.
Smart Database Management
The transaction database saves each result for traceability. Article presetting recalls information to easily manage thousands of article IDs.
Connectivity and Mobility Options
Connect printers, barcode readers and more, for high flexibility and fast operation. Replaceable batteries allow mobile operation of the ICS241.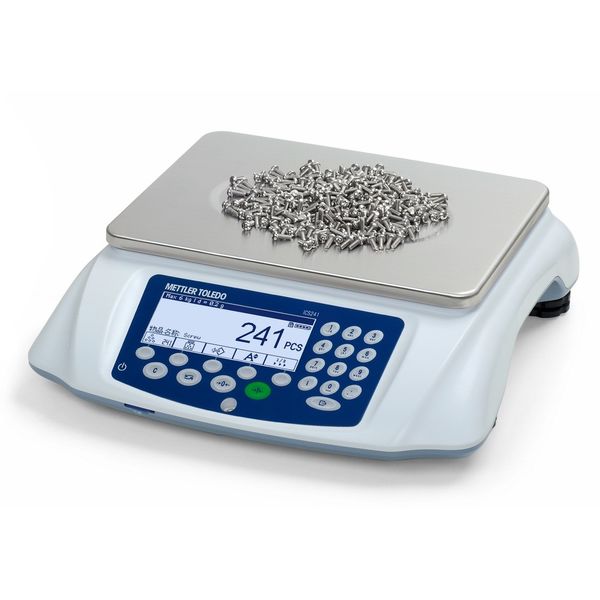 Product Family:bench-scale000500050008
Specifications - ICS241-15003/M-EU
| | |
| --- | --- |
| Maximum Capacity | 15 kg |
| Readability (Certified) | 5 g |
| Repeatability (sd) | 0.7 g |
| Weighing Pan Dimensions (LxW) | 9 in x 12 in (230 mm x 306 mm) |
| Material | ABS Plastic Enclosure |
| Protection Rating | IP43 |
| Platform Size (LxHxW) | 9 in x 4.43 in x 12 in (230 mm x 112.5 mm x 306 mm) |
| Repeatability | 0.5 g |
| Interfaces | RS232 |
| Housing | ABS Plastic Enclosure |
| Repeatability, typical | 0.7 g |
| Bench Scale Type | Basic Level |
| Application Software | Dynamic Weighing; Counting; Simple weighing |
| Dimensions (LxHxW) | 9 in x 4.43 in x 12 in (230 mm x 112.5 mm x 306 mm) |
| Display | Graphic LCD with backlit |
| Data Interface | Serial |
| Environment | Dry (<IP65) |
| Legal for Trade | OIML |
| Hazardous Area | Non-hazardous area |
| Applications | Simple Weighing; Dynamic weighing; Counting |
| Voltage | Battery Version; AC Version |
| Hazardous Approval | No |
| Scale Interface | Analog |
| Hygienic Design | No |
| Platform Type | Counting Scales |
| Material Number(s) | 30219636 |
Maximum Capacity:15 kgMaximum Capacity:15 kgInterfaces:RS232Interfaces:RS232Application Software:Dynamic Weighing; Counting; Simple weighingApplication Software:Dynamic WeighingApplication Software:CountingApplication Software:Simple weighingEnvironment:Dry (<IP65)Environment:Dry (<IP65)Dimensions/Platform Size:</=400 mm; from 6.3" to 15.7"Dimensions/Platform Size:</=400 mmDimensions/Platform Size:from 6.3" to 15.7"Legal for Trade:OIMLLegal for Trade:OIMLHazardous Area:Non-hazardous areaHazardous Area:Non-hazardous areaApplications:Simple Weighing; Dynamic weighing; CountingApplications:Simple WeighingApplications:Dynamic weighingApplications:CountingHygienic Design:NoHygienic Design:No
Documentation