ICS689g-BC150
Excellence Results.
Efficient weighing procedures
An optimal combination between terminal and weighing platform (t-, f- or c-version) leads to less production failure and speeds up your productivity.
Track and trace your results
Cover all requirements of your customer/regulatory body - possible with our user management, alibi memory, routine test and calibration log feature.
Ergonomic design for operator comfort
All you need for Over/Under checkweighing. The colorWeight function® improves your throughput. Fast and comfortable changing of Over/Under parameters.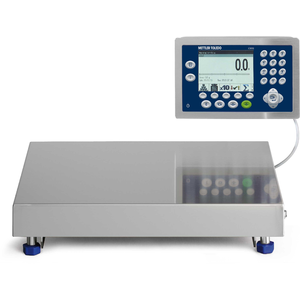 Product Family:bench-scale0003000300020012
Specifications - ICS689g-BC150
| | |
| --- | --- |
| Maximum Capacity | 60 kg/150 kg (250 lb) |
| Readability | 5 g (0.01 lb) |
| Repeatability(sd) | 2.3 g (0.0051 lb) |
| Platform Size (Length) | 500 mm (19.7 in) |
| Platform Size (Width) | 650 mm (25.6 in) |
| Platform Size (Height) | 108 mm (4.3 in) |
| Material | Stainless Steel V2A (AISI 304) |
| Protection Rating | IP69k; IP68 |
| Display | Color TFT screen |
| Readability (Certified) | 20 g; 50 g (0.05 lb) |
| Interfaces | RS232 |
| Housing | Stainless Steel V2A (AISI 304) |
| Repeatability | 5 g |
| Repeatability | 0.01 lb |
| Repeatability (typical) | 2.3 g |
| Repeatability (typical) | 0.0044 lb |
| Hazardous Approval | No |
| Application Software | Pick&Pack; Formulation; Dynamic Weighing; Counting; Simple weighing; Over Under Checkweighing |
| Legal for Trade | NTEP; OIML |
| Data Interface (mt.com) | Serial; USB; Ethernet; WLAN |
| Applications | Simple Weighing; Dynamic weighing; Pick&Pack; Formulation; Counting; Over Under Checkweighing |
| Environment | Wet & Harsh Wet (>/=IP66) |
| Hazardous Area | Non-hazardous area |
| Voltage | Battery Version; AC Version |
| Scale Interface | Analog |
| Interfaces (Optional) | USB; Ethernet; RS422; RS485; WLAN; Discrete I/O |
| Hygenic Design | Yes |
| Performance Optimization | MinWeigh: Minimum Weigh determination acc. your tolerance limits; Easy Scale Leveling: For fast & precise leveling; Smart Counting: Average Piece Weight Optimization; High Resolution: Special aluminum strain gauge load cell |
| Process Integration | Control Additional Platforms: Up to 4 platforms attachable; 1 Standard & 3 Optional Interfaces: RS, USB, Ethernet, WLAN, Dig. I/O; Variety of Interfaces: For easy process integration; Configurable Softkeys: Grants fast access to key functions; Easy to read: L |
| Data Management | Powerful Database: Stores up to 5'000 articles; Comprehensive Statistics: Average Piece Weight, Min., Max. Values; Smart Printing: Predefined & User-definable print & label templates; Fast Data Import & Export: With USB Stick or directly via Ethernet |
| Compliance Support | User Management: Settable user profiles; User Prompting: Control the process; Alibi Memory: Stores all weighing results; Intuitive User Interface: Prevents from user errors; Hygienic Designed: EHEDG & NSF approved & Easy to Clean |
| Versatility | Mobile Operation: Built-in battery available; colorWeight: Highly configurable color display; Easy to read: Large full color TFT display; Fast Totalizing: Totalizing to a target weight or count; Numeric Keypad: For fast operation; Intuitive Checkweighing and Counting: Absolute & relative targets; Versatile Scale: For demanding weighing tasks in wet environment |
| Maximum Capacity (AM metric) | 100 kg |
| Platform Type | Bench Scale |
| Legal for Trade Class OIML | Class III |
| Legal for Trade Class NTEP | Class III |
| Readability (Certified) (AM metric) | 20 g |
| Zero Return (typical) | 1.3 g (0.0029 lb) |
| Error of Indication at half load (typical) | 14 g (0.031 lb) |
| Hysteresis (typical) | 6.5 g (0.015 lb) |
| Eccentric Load Deviation at 1/3 of Full Load (typical) (Metric) | 15.1 g |
| Eccentric Load Deviation at 1/3 of Full Load (typical) | 0.034 lb |
| Error of Indication at full load (typical) | 5 g (0.011 lb) |
| EasyPrint Name | ICS689g-BC150 |
| Material Number(s) | 22201276 |
Maximum Capacity:60 kg/150 kg (250 lb)Maximum Capacity:150 kgMaximum Capacity:250 lbReadability:5 g (0.01 lb)Readability:5 gReadability:0.01 lbInterfaces:RS232Interfaces:RS232Legal for Trade:NTEP; OIMLLegal for Trade:NTEPLegal for Trade:OIMLApplications:Simple Weighing; Dynamic weighing; Pick&Pack; Formulation; Counting; Over Under CheckweighingApplications:Simple WeighingApplications:Dynamic weighingApplications:Pick&PackApplications:FormulationApplications:CountingApplications:Over Under CheckweighingEnvironment:Wet & Harsh Wet (>/=IP66)Environment:Wet & Harsh Wet (>/=IP66)Dimensions/Platform Size:from 19.8" to 31.5"; from 501 to 800 mmDimensions/Platform Size:from 19.8" to 31.5"Dimensions/Platform Size:from 501 to 800 mmHazardous Area:Non-hazardous areaHazardous Area:Non-hazardous areaHygenic Design:YesHygenic Design:Yes
Documentation
Related Products and Solutions