Bench Scale ICS685s-BC60/t/M
Reliable Performance.
ICS685d - BC 60/t/M
Strain Gauge Technology
The ICS685 solution stands for total flexibility. Benefit from its wide range of applications, easy user management and powerful internal database.
Durable and Rugged
Tough enough for use in industrial environments with aluminum die cast housing, overload protection and robust foil keypad.
Withstands Harsh, Dry and Dust-Contaminated Environments
The IP65-approved PBD655 Platform digital platform series is built for challenging environments.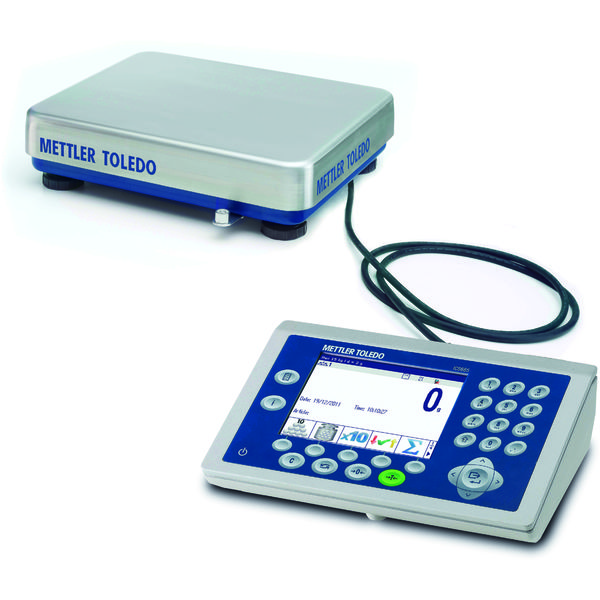 Product Family:bench-scale0003000400020017
Specifications - Bench Scale ICS685s-BC60/t/M
| | |
| --- | --- |
| Maximum Capacity | 60 kg |
| Readability (Certified) | 10 g |
| Repeatability (sd) | 0.6 g |
| Platform Size (LxWxH) | 19.7 in x 25.6 in x 4.3 in (500 mm x 650 mm x 110 mm) |
| Material | Platform: Carbon Steel; Terminal: Aluminium diecast |
| Protection Rating | IP65 |
| Display | Color TFT screen |
| Interfaces | RS232 |
| Housing | Platform: Carbon Steel; Terminal: Aluminium diecast |
| Repeatability | 1 g |
| Application Software | Counting; ; Formulation; ; ; Simple weighing |
| Hazardous Approval | No |
| Repeatability (typical) | 0.6 g |
| Applications | Counting; Dynamic weighing; Formulation; Over Under Checkweighing; Pick&Pack; Simple Weighing |
| Data Interface | Ethernet; Serial; USB; WLAN |
| Dimensions/Platform Size | from 19.8" to 31.5"; from 501 to 800 mm |
| Environment | Dusty & Light Wet (IP65) |
| Legal for Trade | OIML |
| Interfaces (Optional) | Discrete I/O; Ethernet; RS422; RS485; USB; WLAN |
| Scale Interface | SICSpro |
| Voltage | AC Version; Battery Version |
| Hygenic Design | No |
| Platform Type | Bench Scale |
| Material Number(s) | 22023495 |
Maximum Capacity:60 kgMaximum Capacity:60 kgReadability (Certified):10 gReadability (Certified):10 gRepeatability (sd):0.6 gRepeatability (sd):0.6 gPlatform Size (LxWxH):19.7 in x 25.6 in x 4.3 in (500 mm x 650 mm x 110 mm)Platform Size (LxWxH):19.7 in x 25.6 in x 4.3 in (500 mm x 650 mm x 110 mm)Material:Platform: Carbon Steel; Terminal: Aluminium diecastMaterial:Platform: Carbon SteelMaterial:Terminal: Aluminium diecastProtection Rating:IP65Protection Rating:IP65Display:Color TFT screenDisplay:Color TFT screenInterfaces:RS232Interfaces:RS232Housing:Platform: Carbon Steel; Terminal: Aluminium diecastHousing:Platform: Carbon SteelHousing:Terminal: Aluminium diecastRepeatability:1 gRepeatability:1 gApplication Software:Counting; ; Formulation; ; ; Simple weighingApplication Software:CountingApplication Software: Application Software:FormulationApplication Software: Application Software: Application Software:Simple weighingHazardous Approval:NoHazardous Approval:NoRepeatability (typical):0.6 gRepeatability (typical):0.6 gApplications:Counting; Dynamic weighing; Formulation; Over Under Checkweighing; Pick&Pack; Simple WeighingApplications:CountingApplications:Dynamic weighingApplications:FormulationApplications:Over Under CheckweighingApplications:Pick&PackApplications:Simple WeighingData Interface:Ethernet; Serial; USB; WLANData Interface:EthernetData Interface:SerialData Interface:USBData Interface:WLANDimensions/Platform Size:from 19.8" to 31.5"; from 501 to 800 mmDimensions/Platform Size:from 19.8" to 31.5"Dimensions/Platform Size:from 501 to 800 mmEnvironment:Dusty & Light Wet (IP65)Environment:Dusty & Light Wet (IP65)Legal for Trade:OIMLLegal for Trade:OIMLInterfaces (Optional):Discrete I/O; Ethernet; RS422; RS485; USB; WLANInterfaces (Optional):Discrete I/OInterfaces (Optional):EthernetInterfaces (Optional):RS422Interfaces (Optional):RS485Interfaces (Optional):USBInterfaces (Optional):WLANScale Interface:SICSproScale Interface:SICSproVoltage:AC Version; Battery VersionVoltage:AC VersionVoltage:Battery VersionHygenic Design:NoHygenic Design:NoPlatform Type:Bench ScalePlatform Type:Bench Scale
Documentation
Accessories