Compact Scale ICS445s-3SM/f/M/65
Reliable Performance.
Strain Gauge Technology
The ICS445 basic counting solution offers configurable soft keys for fast access to key functions, such as sampling for counting.
Durable and Rugged
Tough enough for use in industrial environments with aluminum die cast housing, overload protection and robust foil keypad.
Dust-Proof with Guaranteed Accuracy
This dust-proof system is legal for trade, and its accuracy is guaranteed by a nationally accredited facility prior to shipment.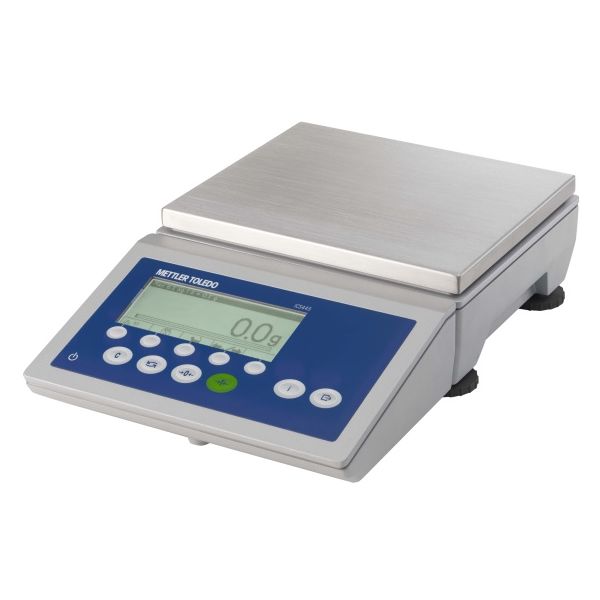 Product Family:bench-scale0003000400030019
Specifications - Compact Scale ICS445s-3SM/f/M/65
| | |
| --- | --- |
| Maximum Capacity | 3 kg |
| Readability (Certified) | 0.5 g |
| Repeatability (sd) | 0.03 g |
| Platform Size (LxWxH) | 7.9 in x 9.5 in x 3.7 in (200 mm x 240 mm x 95 mm) |
| Material | Aluminium diecast |
| Protection Rating | IP65 |
| Repeatability | 0.05 g |
| Hazardous Approval | No |
| Display | Graphic LCD with backlit |
| Housing | Aluminum Diecast |
| Interfaces | RS232 |
| Application Software | Counting; Dynamic Weighing; Simple weighing |
| Repeatability (typical) | 0.03 g |
| Applications | Counting; Dynamic weighing; Simple Weighing |
| Data Interface | Ethernet; Serial; USB; WLAN |
| Dimensions/Platform Size | </=400 mm; from 6.3" to 15.7" |
| Environment | Dusty & Light Wet (IP65) |
| Legal for Trade | OIML |
| Interfaces (Optional) | Discrete I/O; Ethernet; RS422; RS485; USB; WLAN |
| Scale Interface | SICSpro |
| Voltage | AC Version; Battery Version |
| Hygenic Design | No |
| Platform Type | Counting Scales |
| Material Number(s) | 22023109 |
Maximum Capacity:3 kgMaximum Capacity:3 kgReadability (Certified):0.5 gReadability (Certified):0.5 gRepeatability (sd):0.03 gRepeatability (sd):0.03 gPlatform Size (LxWxH):7.9 in x 9.5 in x 3.7 in (200 mm x 240 mm x 95 mm)Platform Size (LxWxH):7.9 in x 9.5 in x 3.7 in (200 mm x 240 mm x 95 mm)Material:Aluminium diecastMaterial:Aluminium diecastProtection Rating:IP65Protection Rating:IP65Repeatability:0.05 gRepeatability:0.05 gHazardous Approval:NoHazardous Approval:NoDisplay:Graphic LCD with backlitDisplay:Graphic LCD with backlitHousing:Aluminum DiecastHousing:Aluminum DiecastInterfaces:RS232Interfaces:RS232Application Software:Counting; Dynamic Weighing; Simple weighingApplication Software:CountingApplication Software:Dynamic WeighingApplication Software:Simple weighingRepeatability (typical):0.03 gRepeatability (typical):0.03 gApplications:Counting; Dynamic weighing; Simple WeighingApplications:CountingApplications:Dynamic weighingApplications:Simple WeighingData Interface:Ethernet; Serial; USB; WLANData Interface:EthernetData Interface:SerialData Interface:USBData Interface:WLANDimensions/Platform Size:</=400 mm; from 6.3" to 15.7"Dimensions/Platform Size:</=400 mmDimensions/Platform Size:from 6.3" to 15.7"Environment:Dusty & Light Wet (IP65)Environment:Dusty & Light Wet (IP65)Legal for Trade:OIMLLegal for Trade:OIMLInterfaces (Optional):Discrete I/O; Ethernet; RS422; RS485; USB; WLANInterfaces (Optional):Discrete I/OInterfaces (Optional):EthernetInterfaces (Optional):RS422Interfaces (Optional):RS485Interfaces (Optional):USBInterfaces (Optional):WLANScale Interface:SICSproScale Interface:SICSproVoltage:AC Version; Battery VersionVoltage:AC VersionVoltage:Battery VersionHygenic Design:NoHygenic Design:NoPlatform Type:Counting ScalesPlatform Type:Counting Scales
Documentation