Equipment Qualification for Laboratory Balances and Analytical Equipment
It is a basic requirement of good analytical chemistry that balances and analytical instruments must be suitable for the purpose to which they are applied and that they must be appropriately calibrated. As a consequence, Equipment Qualification gains more and more importance in ensuring the validity of results. Regulatory bodies also seem to be increasingly turning their attention to this area and manufacturers of analytical equipment are forced to take a significant part in the different steps of Equipment Qualification. To support customers in their aim to satisfy these new requirements, METTLER TOLEDO designed a Balance Log Book that fully documents all steps from installation to disposal of the balance.

Note: This section "Equipment Qualification" is based mainly on the book "Validation and Qualification in Analytical Laboratories" written by Ludwig Huber (ISBN:1-57491-080-9).
2.0 Four steps of Equipment Qualification
Equipment Qualification (EQ) is used as an "umbrella-term" to cover the four steps that ensure a balance or instrument is appropriate for its intended use. The user has the ultimate responsibility for the accuracy of results and for the qualification of his/her equipment. METTLER TOLEDO breaks EQ down into:

Step 1:
Design Qualification (DQ) defines the fuctional and operational specifications of a balance or instrument.

Step 2:
Installation Qualification (IQ) ensures that a balance or instrument is received as designed and specified. It documents the installation in the selected user environment.

Step 3:
Operational Qualification(OQ) demonstrates that a balance or instrument will function according to its operational specification in the selected environment.

Step 4:
Performance Qualification (PQ) demonstrates that a balance or instrument consistently performs according to a specifiction appropriate for its routine use.
3.0 Qualification Stages and Responsibilities
4.0 Design Qualification
Design qualification (DQ) defines the functional and operational specifications of the instrument and details the conscious decisions in the selection of the supplier. DQ should ensure that instruments have all the necessary functions and performance criteria that will enable them to be successfully implemented for the intended application and to meet business requirements. Errors in DQ can have a tremendous technical and business impact, and therefore a sufficient amount of time and resources should be invested in the DQ phase. For example, selecting a vendor with insufficient support capability can decrease instrument up-time with a negative business impact. METTLER TOLEDO provides a pdf-file to support customers during the specification phase.

The list below shows the recommended steps that should be considered for inclusion in a design qualification.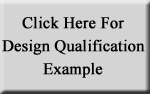 To set the functional and performance specifications, the vendor's specification sheets can be used as guidelines. However, it is not recommend simply writing up the vendor's specifications because compliance to the functional and performance specifications must be verified later on in the process during operational qualification and performance qualification. Specifying too many functions and setting the values too stringently, will significantly increase the workload for OQ.
The Balance Log Book provided by METTLER TOLEDO contains a DQ section to support definition of functional and operational specifications.
Click to see a Design Qualification example for a METTLER TOLEDO titrator.

5.0 Vendor Qualification as Part of DQ
As part of the design qualification process, the vendor should be qualified; the question is how should this be done? Is an established and documented quality system enough, (e.g. ISO 9001) or should there be a direct audit?
The answer is that there may be situations where a vendor audit is recommended: for example, when complex computer systems are being developed for a specific user. However, this is rarely the case for balances and analytical instruments.
If equipment does not include a computer system a good reputation, own experiences or good references from other users together with ISO9001 certification, can be sufficient.
When the equipment to be purchased is an off-the-shelf commercial system such as a titrator or thermal analysis system that includes a computer for instrument control and data handling, it is recommended following these steps:
Step 1
Develop a vendor qualification checklist. This list should include questions on how the equipment is developed, validated, installed and supported. The points to consider are:
- Does the vendor have a documented and certified quality system, (e.g. ISO 9001. ISO 9002 or 9003 is insufficient because these norms do not cover design of products.
- For products that include software, does the vendor comply with ISO 9000-3 (Guidelines for the application of ISO 9001 to the development, supply and maintenance of software) or an equivalent standard?
- Is equipment hardware and computer software developed and validated according to a documented procedure (according to a product life cycle)?
- Is the vendor prepared to make product development and validation records and source code accessible to regulatory agencies?
- Does the vendor provide declaration of conformity to documented specifications?
- Does the vendor provide assistance in design qualification, equipment installation, qualification, maintenance and timely repair through qualified employees?

Step 2
Send the checklist to the vendor. If the vendor answers all the questions satisfactorily within a given time frame, the vendor is qualified.
Step 3
If the vendor does not answer the questions satisfactorily, another vendor should be considered. If there is no other vendor who could provide an instrument that meets the operational and functional specifications, a direct audit should be considered.
4.0 Installation Qualification
Installation qualification establishes that the instrument is received as designed and specified, that it is properly installed in the selected environment, and that this environment is suitable for the operation and use of the instrument. The two tables below list steps as recommended before and during installation.
Before Installation
- Obtain manufacturer's recommendations for installation site requirements.
- Check the site for the fulfillment of the manufacturer's recommendations (utilities such as electricity, water and gases and environmental conditions such as humidity, temperature, vibration level and dust).
- Allow sufficient shelf space for the equipment itself, related SOP's, operating manuals, log books and software.
During Installation
- Compare equipment, as received, with purchase order (including software, accessories, spare parts).
- Check documentation for completeness (operating manuals, maintenance instructions, standard operating procedures for testing, safety and validation certificates).
- Check equipment for any damage.
- Install hardware (equipment, computer, printers, modules).
- Switch on the balance or instrument(s) and ensure that equipment powers up.
- If applicable install software on computer following the manufacturer's recommendation.
- Verify correct software installation, (are all files loaded). Utilities to do this should be included in the software itself.
- Make a back-up copy of software.
- Configure peripherals (printers and equipment modules).
- Identify hardware and complete list in log book, include drawings where appropriate.
- If applicable identify and record all software installed on the computer.
- List equipment manuals and SOP's.
- Complete installation report.
For a larger laboratory we recommend entering the equipment data into a spreadsheet or data base. Items that should be included for each piece of equipment are listed below.

- In-house identification number (asset number)
- Name of the item or equipment
- Manufacturer's name, address and phone number for service calls, service contract number
- Serial number of equipment
- Computer hardware with information on processor, hard disk space
- Installed software and revision number
- Date received
- Date placed in service
- Current location
- Condition when received, for example, new, used, reconditioned
- List with authorized users and responsible person

Note:
Functional and operational testing belong to OQ. IQ does only include tests to verify that the software and hardware are installed properly and that all electrical and fluid connections are correct. Therefore IQ should include switching on the instrument and checking for any error messages.

5.0 Operational Qualification
Operational qualification(OQ) is the process of demonstrating that an instrument will function according to its operational specification in the selected environment. Frequent questions regarding OQ are:
What procedures and test standards should be used: should they reflect the intended use of the equipment or should they be generic for the instrument category?

What should the acceptance criteria be? Should they be in line with the manufacturer's specifications, or should they reflect the intended use of the equipment?

Should I use the same procedures and acceptance criteria for all instruments of the same type in my laboratory and/or in our company?

How frequently should OQ tests be done?

Should the test be done by the vendor or by the user?

Should I do preventive maintenance before theOQ test?

Should I requalify the equipment after moving the instrument to another lab?

Should I requalify the equipment after repair or after firmware, software and hardware upgrades?

Why do I need OQ at all if I use the equipment for one specific application only, isn't performance qualification enough?

Before OQ testing is done, one should always consider what the instrument will be used for. Testing may be quite extensive if the instrument is to be used for all types of applications and where some of these put high demands on the performance of the system.

If a balance or instrument is to be used for one application only, tests and acceptance criteria should be limited to that application. In this case, the test compound can be the same as the compounds analyzed in unknown samples.
The frequency of OQ depends on the type of instrument, on the stability of the performance parameters, butalso on the specified acceptance criteria. In general, the time intervals should be selected such that the probability is high that all parameters are still within the operational specifications. Otherwise, analytical results obtained with that particular instrument are questionable.

The frequency of OQ also depends on the use of the equipment. When equipment qualification became an issue a few years ago METTLER TOLEDO recommended a qualification frequency of once per year as being appropriate. This rule still may be applicable for normal operation of equipment. However, if a balance is in continuous operation, or if the work with a titrator involves frequent use of caustic, corrosive or precipitate-forming titration solutions which have a considerable adverse effect on the dispensing and/or measuring device, it may be advisable to decrease the time between testing to, forexample, every 6 or even 3 months.
6.0 Performance Qualification (PQ)
Performance Qualification (PQ) is the process of demonstrating that an instrument consistently performs according to a specification appropriate for its routine use.

Important here is the word consistently. The test frequency is much higher than for OQ. Another difference is that PQ should always be performed under conditions that are similar to routine sample analysis.
PQ should be performed on a daily or at least a weekly basis or whenever the instrument is used. The test frequency not only depends on the stability of the equipment but on everything in the system that may contribute to theanalysis results. In practice, PQ can mean system suitability testing where critical key system performance characteristics are measured and compared with documented preset limits. The table below gives a recommendation for a PQ example for a balance.
1. Define the performance criteria and test procedures.

2. Select critical parameters. For a balance this can be:

- Testing of one to several points
- Defining test points
- Defining Weights and Weight Classes to be used
- Decision if certified and traceable weights have to be used for testing
- Defining acceptance limits of results

3. Define the test intervals:
- weekly, e.g. every Monday morning
- every day
- every time the balance is used
- before, between and after a series of runs

4.Define corrective actions on what to do if the balance does not meet the criteria, in other words if the results are out of specification. METTLER TOLEDO provides a SOP for a performance test in the Balance Log Book.

7. Who should do EQ: the vendor or the user?
Balances and analytical instruments are usually purchased from a vendor, so a frequently asked question is whether the vendor or the user should perform equipment qualification. Here it should be noted that the user has the ultimate responsibility for the accuracy of the analysis results and therefore also for equipment qualification. What the user does in this respect depends again on the type of equipment, and especially on its intended use.

DQ should always be done by the user. The instrument's functional and performance specifications from the vendor can be used as a source of information, but they always should be adapted to the specific, intended use of the system.

While IQ for a small and low cost instrument, such as a pH meter, may be done by the user, IQ for balances, titrators or Thermo Analysis systems should be done by the vendor.
As a rule OQ should be done by the vendor. If the vendor performs OQ, the user does not have to worry about calibrated weights and testing equipment that is certified and traceable to national or international standards.
PQ should always be done by the user because it very often depends upon a specific application. As PQ is done much more frequently than OQ, this practically limits this task to the user anyway.

8. Documentation
On completion of equipment qualification, documentation should be available that consists of:

- Design and vendor qualification document
- Installation qualification document (IQ Protocol)
- List of authorized users
- List of authorized service technicians
- Calibration certificate that documents initial calibration
- Log that lists all activities involving the equipment
- PQ test procedures and representative results
- Entries on instrument ID in the laboratory's instrument data base