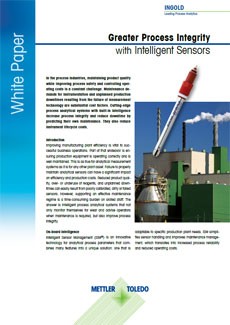 Improve the Integrity of Your Production Processes
Process analytics pulp and paper solutions can dramatically improve product quality and yield, if sensors are properly maintained. Reduced product quality, over- or underuse of reagents, and unplanned downtime can easily result if in-line sensors are poorly calibrated, dirty or simply not operating. Supporting an effective maintenance program is a time-consuming burden on skilled staff. The answer is process analytical systems that not only monitor themselves for wear and advise operators when maintenance is required, but also improve process integrity.
 
The pulp and paper industry is a tough environment for in-line analytical sensors. The presence of fibers, sulfides and high temperatures can all interfere with reliable sensor measurements. METTLER TOLEDO pulp and paper solutions include pH/ORP and conductivity sensors designed to tolerate extreme conditions. To these probes, the addition of Intelligent Sensor Management (ISM) digital technology provides benefits that are not available on traditional analog sensors.
This white paper explains how the ISM platform increases process reliability and reduces operating costs. In-line analytical pulp and paper solutions with ISM have numerous benefits, including advanced diagnostics that predict when sensor cleaning, calibration and replacement will be required.

It has been estimated that as much as 60% of maintenance carried out in production facilities is not required. Maintenance is often conducted on a scheduled basis, meaning an analytical pH sensor might be calibrated or replaced even though it may not actually be needed. ISM's easy to read tools constantly monitor sensor 'health' and provide continuously updated data on how process conditions are impacting probes. This allows sensor maintenance to be planned for when it will be required – neither too early, or after measurements are failing.