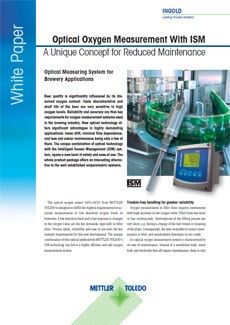 White Paper: Optical Oxygen Measurement
Beer quality is influenced significantly by its dissolved oxygen content. Taste characteristics and shelf life of the beer are very sensitive to oxygen levels. Reliability and accuracy are thus key requirements for oxygen measurement systems used in the brewing industry.

New optical measuring techniques offer significant advantages in highly demanding applications: lower drift, minimal flow dependence, and less and easier maintenance being only a few of them. The unique combination of optical sensors with Intelligent Sensor Management (ISM) technology opens a new level of safety and ease of use.

Discover in this white paper how our optical oxygen sensors:

Minimize beer loss at the filling line
Improve process safety
Reduce maintenance