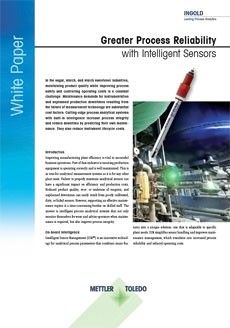 Intelligent pH sensors
Well maintained analytical sensors are essential to maximizing production
Sugar and starch production centers on maintaining product quality while improving process safety and controlling operating costs.
In-line analytical play a major role in sugar and starch production if not properly maintained they can have a significant impact on production and efficiency. Poorly calibrated, dirty or failed sensors can lead to reduced product quality, over- or underuse of reagents, and unplanned downtimes. However, supporting an effective maintenance regime is a time-consuming burden on skilled staff.
This white paper looks at an analytical sensors that not only monitor themselves for wear and advise operators when maintenance is required, but also improve process integrity.
Sensors with built-in intelligence
Intelligent Sensor Management (ISM® is a digital technology that incorporates intelligent algorithms into in-line sensors. The combination of on-board microprocessors and algorithms that actually learn from process conditions, simplifies sensor and analyzer handling and workflows.
ISM delivers a level of performance that analog systems simply cannot provide, including: increased measurement confidence, online sensor diagnostics and error-free operation.
Maintain sensors only when necessary
Among ISM's numerous features is the Adaptive Calibration Timer, which indicates in days when the next sensor calibration should be performed. This tool prevents sensors from being calibrated too late or too soon. A further tool, the Dynamic Lifetime Indicator informs operators when sensor replacement will be required; therefore, preventing the possibility of a sensor failing in the process.
The white papers explains ISM's numerous features and benefits and how they combine to create a powerful tool for improving process control and maximizing process equipment availability in sugar and starch production.
Highlights include:
Why modern process analytics equipment with (ISM) is highly reliable.
How ISM can be tailored to your requirements and simplifies sensor maintenance.
How ISM's predictive diagnostics features can be integrated into your process control system.
Related White Papers and Guides