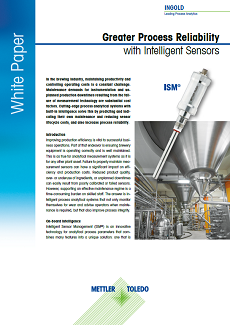 White Paper: Brewing Process Reliability with Intelligent Sensors
Throughout brewing facilities, in-line analytical measurement systems are of great value for monitoring product quality, dissolved gas levels, water to beer phase transition, and more. For reliable operation, measurement sensors must be kept in good order, but it can be difficult to tell when maintenance or calibration is required. Cutting-edge process analytical systems with built-in intelligence have solved this.
Intelligent Sensor Management (ISM®) is METTLER TOLEDO's digital technology platform for process analytical measurement systems. With ISM it is possible to obtain a continuous assessment of sensor "health". In addition, sensor handling is significantly easier, and process uptime is increased.

ISM diagnostics tools include:
Dynamic Lifetime Indicator – remaining reliable operating days of sensor
Adaptive Calibration Timer – days until next calibration should be performed
Time to Maintenance – days until next maintenance should be performed
CIP / SIP Counter – number of times sensor has been exposed to CIP / SIP cycles
Find out in our new white paper how intelligent measurement solutions:
Predict and indicate their own maintenance
Improve production efficiency
Ensure brewery equipment is operating correctly
Reduce sensor lifecycle costs
Increase process reliability
Enhance product quality
Ensure fast and simple start-up