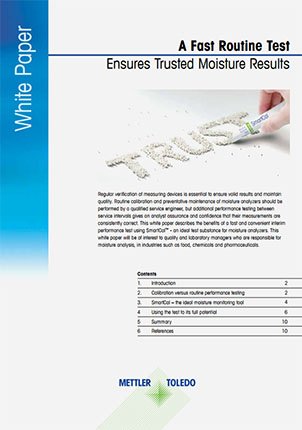 SmartCal Routine Testing
The performance of any sensitive measuring equipment has the potential to vary during operation because of a number of factors, some of which can be difficult to control. For this reason, it is highly recommended that all measuring instruments, including moisture analyzers, are regularly checked in order to ensure high quality results, prevent the need to repeat measurements, and alleviate the risk of adversely affecting end products or losing accreditation.
Routine calibration and preventative maintenance of moisture analyzers should be performed by a qualified service engineer, but additional performance routine testing between service intervals gives an analyst assurance and confidence that their measurements are consistently correct.
Now, SmartCal™ – a unique test substance with a known moisture content – provides a rapid method for verification of the overall performance of a moisture analyzer in just 10 minutes, testing both the heating and the weighing elements simultaneously. It also provides the ability to monitor the performance of a moisture analyzer over time, with overview charts per testing temperature that allow to identify trends and identify problems before they even occur.

This white paper describes the benefits of a fast and convenient interim performance test using SmartCal, and makes comparison of this method with traditional routine testing of moisture analyzers. The publication will be of interest to quality and laboratory managers who are responsible for moisture analysis, in industries such as food, chemicals and pharmaceuticals.

Why is performance testing necessary for moisture analyzers?
A moisture analyzer consists of a heating device and an integrated balance. A fault in either component, or external influences such as the ambient temperature or drafts, can potentially cause errors in results. In order to verify that results are accurate, and conform to quality regulations if necessary, it is crucial to be sure that both components − the balance and the heating source − are functioning correctly.
What needs to be tested?
The accuracy of moisture analyzer measurements may be influenced by several factors. The three most
important are:
Variability of the heating temperature
Variability of the sample characteristics
Error in the weighing results