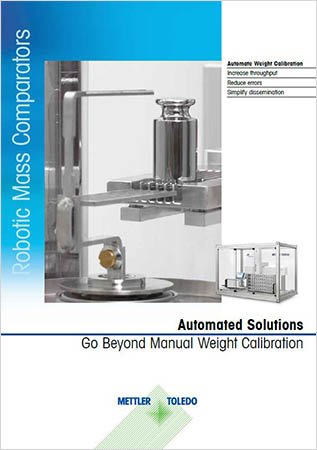 Robotic Mass Comparators
Go Beyond Manual Weight Calibration with Robotic Mass Comparators – Automating the mass comparison process with METTLER TOLEDO's e_Line and a_Line mass comparators  removes such errors entirely. With weights, results and calculations  all handled automatically, additional sources of errors are reduced to  the very minimum. Quality and traceability are assured in significantly  less time.
Manual weight calibration is a time-consuming and labor-intensive process. It requires precise weight handling, and the highly repetitive nature of the task demands the utmost concentration to prevent weights being mixed up and to avoid errors in transcription or calculation of results.
Automated weight calibration with METTLER TOLEDO's robotic mass comparators meets today's increasing demands for lean laboratory practices. Accurate and efficient calibration of up to 100 weights in one automated run delivers substantial time and cost savings.
The flexible e_Line and a_Line robotic systems can be combined according to your specific requirements to create a high-throughput weight calibration system suitable for one-to-one calibrations or for weight disseminations for weights from 0.05 mg up to 20 kg. The Efficiency Pack software option, in conjunction with an environmental monitoring station, automatically processes all mass calibration results and compensates for the influences of air buoyancy.