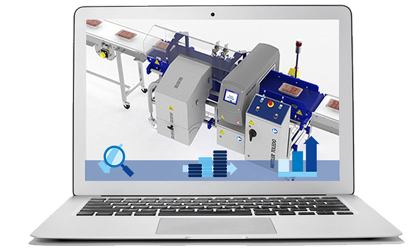 How To Select The Correct Metal Detection System | Live Webinar
Presenters
David Kirby: Market Manager
David Kirby
Market Manager
METTLER TOLEDO Safeline
Paul Holdship: Market Manager

Paul Holdship
Market Manager
METTLER TOLEDO Safeline
This webinar - How To Select The Correct Metal Detection System - is part of a new "How To…" series of educational, online events designed to help food manufacturers to better understand how you can optimize the performance of your product inspection equipment.
Choosing the right metal detection system to invest in is important - to protect your brand,  reduce the risk of product recalls and the costs associated with them, and to reduce false rejects. This webinar will explore key considerations to help you make the right choice:
Understand how metal detectors work
Explore frequency options and when to use low, high or multiple frequencies for best results
Discover additional factors that can improve productivity and OEE, or make compliance easier to achieve
This free webinar features product demos to provide practical guidance on how to select the correct metal detection system so you can meet your compliance obligations as well as achieve your productivity targets.
David Kirby & Paul Holdship
Metal Detection Technology De-mystified
With so many choices of metal detection systems from a wide range of suppliers, selecting the right solution can be a minefield. This free webinar aims to go back to basics - giving you essential information to help you understand how to compare different solutions, so you can make the right choice for your application and business needs.
In some cases, an entry-level solution that offers a high level of sensitivity performance may be exactly what you need to meet your compliance obligations. In other cases, reducing product waste to an absolute minimum by virtually eliminating false rejects may be a key driver for your business, and you may need to invest in a more advanced solution that delivers maximum sensitivity and enhanced productivity. If digitalization and future-proofing your production line are key, then ease of factory system integration and automating data recording and storage needs to be considered.
Interested in learning more? Register to attend our webinar to get the inside scoop on how to match metal detection technology to your application.