Integrated product data check
Want to learn more about our systems, but don't have the ability (or budget) to meet in person? No problem! Request a free virtual online demonstration of our products and one of our sales representatives will reach out and schedule a live product demonstration. No travel necessary, and completely free.

---
Product mislabeling is an easily preventable error. When the cost of mislabeled products reaching the marketplace is a product recall, the decision to implement procedures to prevent the error becomes an easy one. This is best accomplished through the use of automated vision inspection to verify product information on the label in production. But limited production space can present a problem when it comes to implementing such a solution. That is where the Product Data Check option for our Product Inspection systems comes in.
Product Data Check for Oriented Products
The Product Data Check for oriented products supports up to three cameras to inspect the front label, back label, and top of products as they come down the production line. The cameras mount directly on the checkweigher conveyor save valuable production space. The smart cameras are controlled using a single HMI which offers easy and intuitive software operation.
The Product Data Check can perform the following functions:
The front and/or back camera can be used to perform data checks
The top camera can be installed to inspect data
Find out more about adding Product Data Check to your METTLER TOLEDO inspection system.
Product Data Check 360 for Round Products
The Product Data Check 360 utilizes a unique six sensor configuration to perform inspections of product data on round product packaging. The six sensors give a complete 360° view of the entire product surface, enabling the verification of product data regardless of product orientation.
Sensors are housed in a stainless steel housing, and the overall system is rated IP65, making it suited for environments with wet cleaning regimens. The housing takes hygienic design into consideration as well, featuring sloped surfaces to encourage runoff and an open design that allows easy cleaning. As with the Product Data Check, the Product Data Check 360 is controlled with a single HMI with software available in over 30 languages.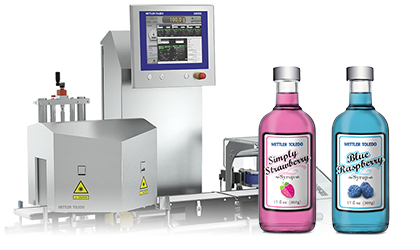 Integrated product data check