Protecting Your Investment with Optimized Services
Selecting the right weighing equipment is an important first step to ensuring that your weighing processes are able to meet internal and regulatory requirements. Specifying services for the equipment is the next step to making sure that your project is a success and that you maximize your return on investment over the life of the equipment.
Utilize this Specifying Services Checklist to ensure that you have considered the necessary equipment specification, installation, configuration, calibration, certification, and maintenance services for your weighing equipment.
This service checklist also assists you in determining how a qualified service provider may offer benefits to improve the performance of your weighing processes.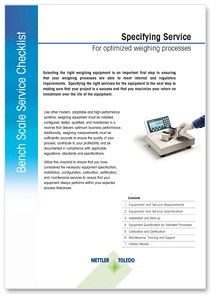 Protecting Your Investment with Optimized Services