In-line O2 Measurement for Inertization Control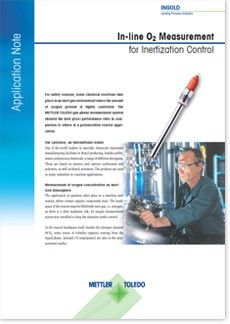 For safety reasons, some chemical reactions take place in an inert gas environment where the amount of oxygen present is tightly controlled. The METTLER TOLEDO gas-phase measurement system showed the best price / performance ratio in comparison to others in a polymeration reactor application.
Our customer, an international leader
One of the world leaders in specialty chemicals maintains manufacturing facilities in Brazil producing, besides performance and process chemicals, a range of different detergents. These are based on anionic and cationic surfactants and polymers, as well as bleach activators. The products are used in many industries in countless applications. 
Measurement of oxygen concentration on inertized atmosphere
The application in question takes place in a stainless steel reactor, where certain organic compounds react. The headspace of the reactor must be filled with inert gas, i.e. nitrogen, as there is a clear explosion risk. An oxygen measurement system was installed to keep the situation under control.
 
In the reactor headspace itself, besides the nitrogen (around 94 %), some traces of volatiles organics coming from the liquid phase, (around 2 % isopropanol) are also in the measurement media.
Download:
Application Note: In-line O2 Measurement for Inertization Control
(pdf - 248 KB)