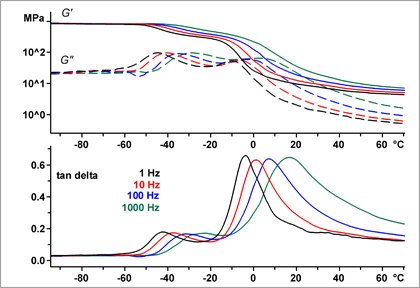 In this live webinar, learn how thermal analysis offers a number of techniques and methods that are used for elastomer testing and characterizing their properties.
Join us for a live webinar on how thermal analysis is used for elastomer testing and characterization. Typical examples of samples measured by DSC, TGA, TMA, and DMA will be covered.
Webinar Overview:
Basic elastomer properties
Thermal analysis
Industry applications
Instrumentation and applications
- Differential Scanning Calorimetry (DSC)
- Thermogravimetry (TGA)
- Thermomechanical Analysis (TMA)
- Dynamic Mechanical Analysis (DMA)
2022-12-08T15:00:00.000Zen
Thu Dec 08 2022 15:00 +0000
[ English ]
Elastomer Properties and Uses
The term elastomer is derived from the words elastic and polymer, and is often used interchangeably with the term rubber.
Elastomers can be stretched or compressed but return to their original dimensions or shape when the applied stress is removed. At ambient temperatures, elastomers are relatively soft and deformable. Their main industrial uses are for seals, tires, engine mounts, and flexible molded parts.
Characterization of Elastomers by Thermal Analysis
DSC
Glass transition
Reaction enthalpy
Vulcanization
Melting and crystallization
Thermal stability
TGA
Weight changes
Compositional analysis
Fillers and additives
Oxidation and decomposition
Vulcanization
Evaporation and vaporization
Desorption
TMA
Expansion or shrinkage
Softening
Glass transition
DMA
Viscoelastic behavior
Glass transition
Frequency-dependence of effects