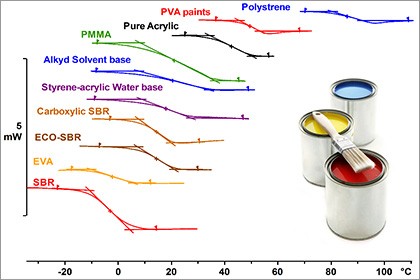 Characterization of Paints
This webinar covers the characterization of paints and coatings by thermal analysis (TA), including several application examples to illustrate the utility of the individual TA techniques.
Thu Dec 10 2020 07:00 +0000
[ English ]

Thu Dec 10 2020 15:00 +0000
[ English ]
Characterization of paints and coatings
Liquid, paste or powder-based paints or coatings are commonly applied to surfaces to protect them against corrosion, weathering and mechanical damage, or otherwise to enhance the attractiveness of objects such as buildings, automobiles or household appliances.
Thermal analysis provides information on melting, crystallization, evaporation, degradation, stress relaxation, softening point, and glass transition, as well as physical properties such as the elastic and viscous moduli. These responses, which change as a function of time or temperature, aid in the development and characterization of a wide range of paints and coatings.
Webinar presentation
This webinar presents interesting application examples that demonstrate the use DSC, TGA, TMA, a DMA for the assessment of paints and coatings and how this information can be used to assist product development and optimization.
Webinar outline:
Introduction
Basic information about paints and coatings
Industries and applications
Techniques and applications
Differential Scanning Calorimetry (DSC)
Thermogravimetry (TGA)
Thermomechanical Analysis (TMA)
Dynamic Mechanical Analysis (DMA)
Summary
Webinar Registration
Once registered, you will receive a conformation email, including additional information pertaining to the webinar.
The webinar (held in English) concludes with a Q&A session, which offers you the unique opportunity to pose questions to our team of TA experts.
Search our collection of thermal analysis on demand webinars at www.mt.com/ta-ondemand
More information about thermal analysis instruments and software can be found at www.mt.com/ta-news