Real-Time Bioburden Analyzer
Measuring microbial levels in Purified Waters has almost exclusively depended on time-consuming and error-prone culture-based lab measurements. Now, the 7000RMS offers accurate, continuous, on-line determination of microbial contamination.
The real-time monitoring of the conductivity and Total Organic Carbon level of Purified Water and Water for Injection is well-established and widely used. But for another vital pharmaceutical waters measurement, microbial counts, it is the traditional lab measurement of cell culture growth in an agar media that dominates. This method is not only time-consuming and retrospective, it regularly results in the costly investigation of false-positive results.
Further, due to the high number of points-of-use (POU) in an average production facility, a single POU may only be tested a few times in a month. This can make identification and remediation of microbial issues a significant challenge.
Industry requirement for on-line analyzers
The pharmaceutical industry therefore requires real-time monitoring to provide instant notification of microbial excursions. In 2013, in recognition of this, a group of seven leading pharmaceutical companies formed the Online Water Bioburden Analyzer (OWBA) workgroup.
The OWBA believes that pharmaceutical companies can benefit from an on-line microbial analyzer in a number of ways, including:
Lower costs through a reduction in labor due to less sampling, and reduced conventional testing and materials. 
Fewer investigations of, and improved responsiveness to, microbial excursions.
Greater process understanding and product safety through real-time monitoring.
Spectroscopic measurement technique
Laser-Induced Fluorescence (LIF) is a bioburden measurement technique that can meet industry needs. All microorganisms contain metabolites which are used to regulate organism growth and development. These metabolites fluoresce when exposed to light of certain wavelengths. LIF is a highly sensitive technique that exploits this phenomenon to detect microbes.
Accurate, real-time bioburden data
METTLER TOLEDO Thornton's 7000RMS is a new on-line analyzer for real-time measurement of bioburden in pharmaceutical water systems. It uses LIF to instantly and continuously measure microbial levels and also determines contamination from inert particles that can come from diaphragms, filters, etc.
The accuracy of the analyzer's measurements results in a significant reduction in false-positive results. And unlike other microbial analyzers, the 7000RMS does not use any dyes or reagents and has no moving parts. It is therefore very easy to operate and maintain.
The analyzer's touchscreen interface displays the readings for microbes and inert particles. Alarms can be set for alert, action and specification limits. The 7000RMS offers SCADA connectivity with ModBus TCP, multiple analog outputs and is Wi-Fi capable.
Improved product quality at a lower cost
The advanced LIF technology employed in the 7000RMS analyzer can provide continuous and accurate data on bioburden contamination throughout a water system. Assurance of in-specification microbial levels and real-time identification of excursions leads to improved product quality, greater process understanding, risk reduction and lower operating costs.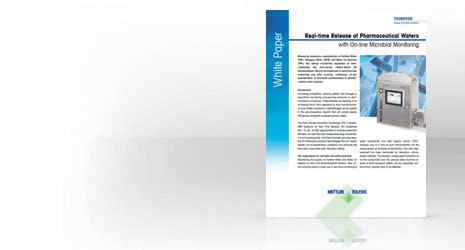 Microbial Monitoring Improves Process Control
This white paper focuses on the measurement of bioburden contamination in Purified Water, Ultrapure Water and Water for Injection.
On-line TOC and Ozone Measurement For Pharmaceutical Waters
For a producer of medical biopolymers, a solution employing Thornton in-line multi-parameter measurements has significantly increased real-time response to system changes.