Thermosets Handbook
Thermosets focuses on the thermal analysis of thermosetting materials and presents the results obtained from over 90 practical examples.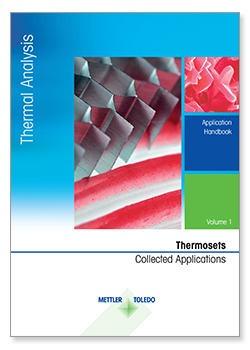 Thermal Analysis of Thermosets
Volume 1 first gives a brief description of the various thermal analysis techniques used to analyze thermosetting materials. This is followed by an introduction to the chemistry and applications of thermosetting resins. The main part of Volume 1 discusses the properties and effects that can be studied using DSC, TGA, TMA and DMA.
Volume 2 concentrates on practical examples and discusses the results obtained from more than ten different types of resin including epoxies, polyesters, formaldehyde resins and polyurethanes. The applications describe the different properties that can be analyzed during the lifecycle of a thermoset.
Examples of contents
(pdf)