Thermoplastics Handbook
Thermoplastics discusses the thermal behavior of more than 20 different thermoplastics with the aid of almost 60 application examples.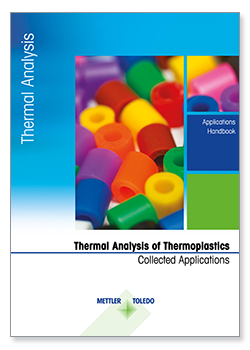 Thermal Analysis of Thermoplastics
The second edition of the handbook covers the main aspects of thermal analysis and the structure and behavior of commonly used polymers. It presents a large number of DSC, TGA and TMA applications as well as several DMA experiments. The topics dealt with include:
melting, crystallization,
glass transition,
softening,
drying,
thermal decomposition,
oxidation stability, and
expansion and contraction behavior
viscoelastic behavior (DMA).
Examples of contents
(pdf)