Elastomers Handbook
Elastomers provides an insight into the structure and thermal analysis of elastomers. It describes measurements performed using more than 50 practical examples.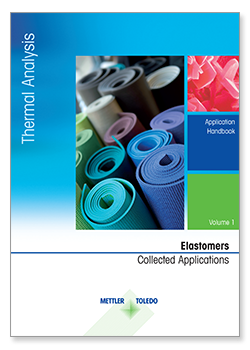 Thermal Analysis of Elastomers
Volume 1 first presents a brief description of the various TA techniques used to analyze elastomers. This is followed by an introduction to the chemistry and applications of elastomeric materials. The main part deals with the basic principles of thermal effects and their evaluation. The measurement of vulcanization and crystallization processes and the glass transition are covered in addition to compositional analysis by TGA. Information on how to optimize measurement and evaluation techniques is also included.

Volume 2 describes a large number of practical application examples using DSC, TGA, TMA, and DMA, as well as combined techniques for gas analysis (TGA-MS and TGA-FTIR). The examples cover relatively simple applications through to the analysis of complex systems and illustrate the different properties and behavior of elastomers that can be studied.
Examples of contents
(pdf)