UC Evo Max Line
Touchscreen weighing convenience for the highest standards
UC Evo Max Line Hanging Scale
The UC Evo Max Line is METTLER TOLEDO's range of PC scales for the most stringent demands. The UC Evo Max Line supports the most comprehensive range of fresh produce and processor-intensive applications such as multimedia sales promotion at the PoS. The UC Evo Max Line impresses with its easy networking and support for applications from third-party suppliers. Thanks to the extensive range of equipment and different models available, you are sure to find a weighing solution that is precisely suited to your requirements – whether you need it for prepacking, at the service counter, or for self-service weighing.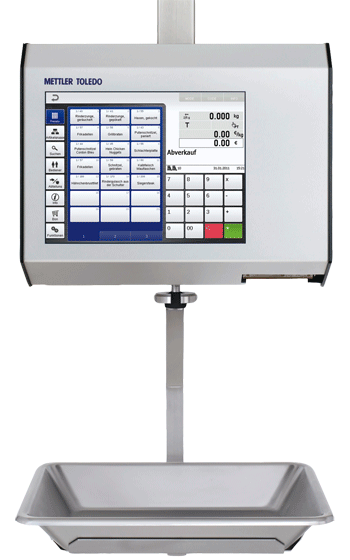 High Performance
The PC-based hanging scales are the perfect choice for grocery retailers looking for a high-performance hanging scale with sufficient power reserves for the most demanding applications.
The robust stainless steel housing consistently protects the scale's electronics and printer unit against spills, acids, salts, and fats, while the high-quality customer display ensures that weight and price information can be easily read by customers in even the poorest lighting conditions.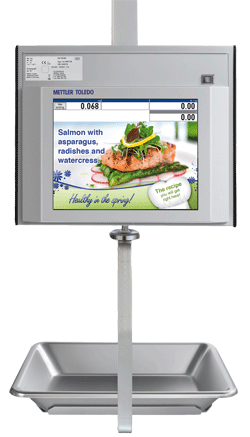 Branding Opportunities Enhanced
The UC Evo Max Line PC hanging scale provides a brand new option for advertising products at sales stands where limited space is available for presenting goods.


The hanging scale combines the advantages of a space-saving hanging scale with the benefits of a large customer display screen for presenting eye-catching sales promotions at the service counter.
Sustainable Technology
UC Evo Max Line scales are very economical when it comes to power consumption. This certainly pays off and is also good for the environment. Strategies for more sustainability exemplified in a credible way - UC Evo Max Line scales make the decision easy.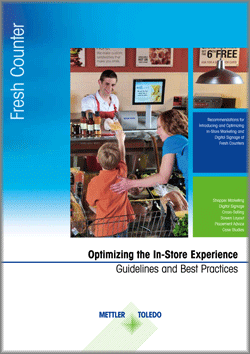 Optimizing the In-Store Experience
METTLER TOLEDO illustrates process models for in-store digital marketing and shares recommendations to successfully integrate cross-promotion and in-store marketing at the fresh service counter.
Click below to request your free Guide "Optimizing the In-Store Experience: Guidelines and Best Practice Recommendations."
Proizvodi in specifikacije
Proizvodi in specifikacije
OpisHigh-end PC hanging scale with touchscreen control
OpisHigh-end PC hanging scale with large customer display screen