Density Determination
Density Kits and Accessories for Analytical and Precision Balances
Density Determination with Balances
Density determination using a balance is an easy and convenient process that delivers highly-reliable results when compared to other methods where volume is determined independently of the weight. METTLER TOLEDO offers kits for density determination of solid, liquid and porous substances.

Easy Set up and Operation
The Density Kits are easily mounted on your balance in a few simple steps to provide a convenient and precise solution.
The Kits contain a support plate, brackets, glass beakers, thermometer, holders for floating and non-floating solids, and a bottle of wetting agent.
Convenient User Guidance
The built-in application in our laboratory balances provides complete workflows for various denisty methods. The application guides you step-by-step through the procedure, collects the results, calculates the density and allows statistical evaluation of the measurement series.

Density Measurement of Liquid Substances
For determining the density of liquids, the optional 10 ml glass sinker is available both calibrated and non-calibrated. Alternatively, the density of liquids can be determined with the use of a pycnometer or digital density meters.

Density Measurement of Bulky Samples
To measure the density of bulky samples that don't fit into the Density Kit, you can use a dedicated hook for XPR/XSR large platform, as well as for MS-L precision balances which allows you to weigh below the balance. Small platform XPR/XSR balances are already equipped with a built-in hook.
Application Note: Easy Density Determination
Our application note describes how the density of solid plastic parts can be easily determined using the integrated application on a METTLER TOLEDO MS-TS, ML-T or ME-T analytical balance with a Density Kit.

Video: Density Determination in Action
Watch how simple it is to measure density on your METTLER TOLEDO laboratory balance. The Density Kit enables you to determine the density of solid, liquid, porous and viscous substances. With step-by-step instructions and automatic calculations, the whole process is easy.
Video: How to mount XPR/XSR Analytical density kit
This video shows step by step how to easily and quickly install the new density kit for XPR/XSR analytical balances.
Dokumentacija
Brošure

Prepare powder, liquid, gel, and paste samples quickly, easily and errorfree. Weigh your sample and Quantos will add the correct amount of solvent, by...
Inštalacijska navodila

For XPR, XSR, XPE, XP, XS Precision Balances
Storitve
Density Determination

What do I need for density determination on a balance?


Determine density with METTLER TOLEDO's density kits for analytical o...


What do I need for density determination on a balance?


Determine density with METTLER TOLEDO's density kits for analytical or precision balances. They are ideal for solid and liquid substances and are very easy to instal - simply replace the weighing pan by the respective density determination kit. Additionally, METTLER TOLEDO offers single accessories for density determination kits - calibrated thermometers, as well as standard, calibrated and recalibrated sinkers of 10 mL for density determination of liquids. For calibrated and recalibrated options we offer a certificate.

Whether you use the buoyancy technique, the displacement principle or the pyncometer method, density determination is easy and efficient.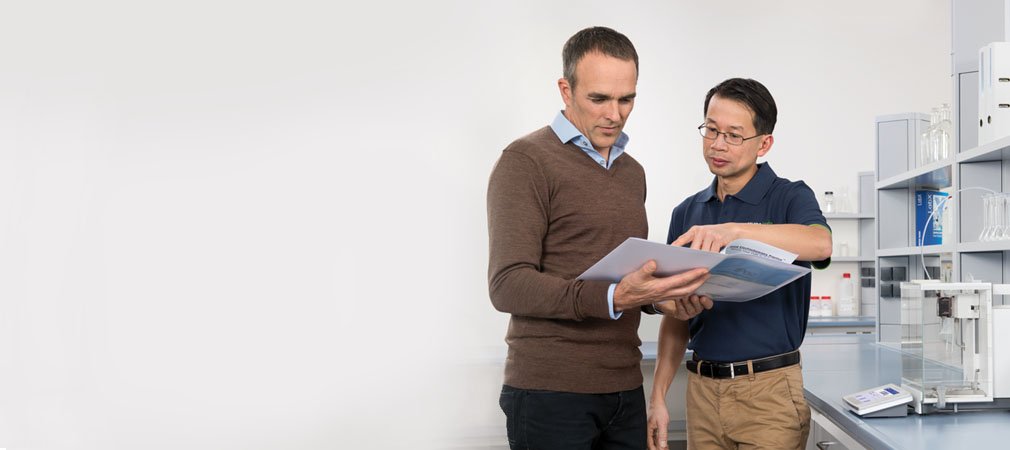 Expert Service for Laboratory Weighing Equipment - Tailored to Suit your Needs
We support and service your laboratory weighing equipment through its entire life-cycle, from installation to balance calibration and from preventive maintenance to balance repair.
Please choose your equippment type: