Sticker Shock—it can happen at the grocery store, the mall, the car dealership and also when shopping for a truck scale. But doesn't a long-term investment like a truck scale deserve more consideration than a glance at the price tag?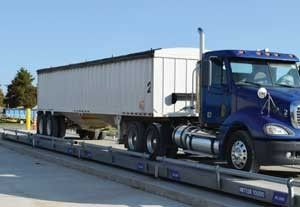 Truck-scale ownership costs
Truck-scale ownership costs
Let's be honest; purchasing a truck scale can be overwhelming. It can be complicated and expensive. However, thorough research before your purchase can save you time, headaches and money in the future.

When shopping for a truck scale, choosing a scale with a low price tag can be tempting. But that low price tag can grow quickly as problems add up. Before committing to a low-cost scale, get the facts. Fifteen years from now, what did you really pay for your truck scale?

The initial purchase price of a truck scale can be broken down as follows:
35% Weighbridge
20% Load-cell system
20% Foundation
15% Delivery and installation
10% Terminal and software
Truck-scale ownership costs
Those are standard costs that come with all truck-scale purchases, regardless of the company. To achieve a lower initial purchase price, companies cut corners during the production process and by using low-quality load-cell systems. Those are the factors that can dramatically affect the total cost of ownership, leading to a scale that costs you much more than you anticipated.

The ongoing cost of scale ownership can be broken down as follows:
76% Load-cell system
10% Terminal
5% Weighbridge
5% Accessories
4% Software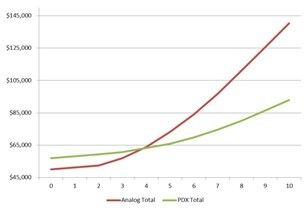 Truck-scale ownership costs
A low-quality load cell system will cause costs to add up quickly. Ownership costs include maintenance, repairs, replacement components and labor. There are also the harmful effects of downtime and weighing errors on your business, especially when weighing expensive raw materials in bulk.

This graph shows the real cost of scales over ten years, with data that has been collected in the field. While the initial purchase price of a high-quality POWERCELL® PDX® scale is higher, it only takes a couple years of problems for the less expensive analog scale to become a money pit.

If you think a cheaper scale will save you money, think again. For the best results now and the future, there is only one choice: METTLER TOLEDO.