Improve Weighing Speed While Producing Quality
Time is a critical factor when it comes to performing tasks better, and processes such as checking incoming goods cost working time. Find out how control equipment that relies on weighing can provide high quality checks even under time pressure.
See how colorWeight is the right tool to speed up your weighing processes and reduce human errors.
Out of tolerance: Below target
Out of tolerance: Below target
Control equipment improves performance
When you have a process that requires both accuracy and speed, an ideal option is to support workers by providing control equipment that prompts them through their working steps and directs their actions with color-coding for fail-safe use. Time use and human errors can be reduced significantly with METTLER TOLEDO products that provide features to increase workflow speed while maintaining high quality.
Weighing instruments deliver accurate results within seconds. ICS counting scales are ideal for counting everything from the smallest parts to bulk quantities in production, receiving/shipping and warehousing. Advanced display applications make it easy for operators to assure fast operation while the scale ensures accuracy. 
Within tolerance
Within tolerance
colorWeight® provides speed and fail-safe use
Using weighing systems to count pieces or checking completeness, operators typically have to concentrate on the display to check the results, thus slowing down the process. The colorWeight® display uses different colors to indicate at a glance if weight or count is below, within or above target. This requires less concentration, speeds up the task and provides a better overall performance.
Out of tolerance: Above target
Out of tolerance. Above target
Customized prompting for your needs
Make use of the prompting feature and adapt work steps according to your individual needs. Create customized instructions to prompt your workers through the processes to prevent operator errors during repetitive tasks. Configure softkeys to access frequently used functions with one click. Set user profiles with login data to make the process secure and error-free.
Control equipment is the solution to
Reduce human errors due to time pressure
Optimize and speed up processes
Save time with easy-read displays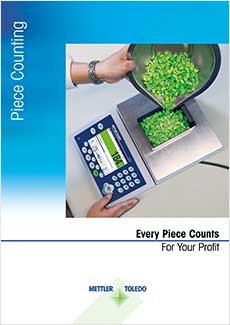 When verifying inventory, parts, or production quantities, every piece is important. Precision piece-counting technology ensures that only the right number of parts is delivered to your customer.
Weighing and measuring solutions for manufacturers in the automotive industry increase production efficiency and product quality.