X36 Series Bulk
Innovative Bulk Solution
Designed for loose bulk-flow food products, the X36 Series Bulk x-ray system offers outstanding contaminant detection before further value is added to the product, saving costs.
Minimising Product Waste
A choice of reject devices, from multiple scoop to air blast nozzles, offer a range of solutions depending on the application needs.
Reduced Running Costs
The advanced detector technology enables lower power x-ray generation offering reduced power consumption and running costs.
Hygienic Design
Class-leading hygienic design following GMP, NFS and EHEDG principles with IP69 as standard and an innovative design enabling full cleaning access.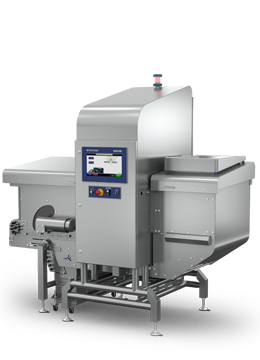 X36 Series Bulk Variant Specification Table
| | |
| --- | --- |
| Casing Material | Stainless Steel |
| Ingress Protection | Full IP69 high pressure wash-down protection |
| Conveyor Speed |  Typical line speeds 20-60 m/min |
| Infeed Options |  Flexible infeed: Hopper or end-fed option |
| Throughput Rate | Typical throughput rates of up to 14,000 kg/hour |
| Maximum Product Layer | 550mm (W) x 30mm (H), dependent on product |
| Screen Display | 15.6" TFT (16:9 aspect ratio) |
| Operating Temperature | 5 - 40°C |
| Pneumatic Supply | Minimum 6 Bar(g) clean air supply required |
| Belt Tracking | Automatic pneumatic tracking and tensioning |
| X-ray Detector | 0.8mm diodes, 600mm width |
| X-ray Generator | 100W, 84kV, 1.2mA Beryllium |
| X-ray Emissions | < 1uSv/hr |
| Reject Type | Six lane scoops or seven lane air-blast options |
| System Conveyor | FDA and EU food use approved TPU conveyor belt |
Click the image below to view the X36 Series Bulk diagram.
X36 Series Bulk Variant Features and Benefits
Intuitive Software
The X36 Series Bulk Variant's intuitive software monitors the system's overall equipment effectiveness (OEE), providing relevant information to the customer in order to make improvements to machine.
Hygienic Design
Sloped surfaces and curved edges minimise bacteria traps and allow water to run off, enabling quick and effective cleaning with minimal downtime. IP69 as standard for harsh wash-down environments.
High Throughputs
The X36 Series Bulk Variant is capable of inspecting throughputs up to 14,000kg/hour (depending on product depth and density), ensuring food safety whilst maximising line efficiencies.
Multi-Lane Reject Devices
Specially developed multi-lane scoop and air blast reject devices are available, which accurately remove a smaller amount of contaminated product, reducing waste and saving costs.
Multiple Connectivity Options
The X36 Series Bulk Variant can also be connected to a manufacturer's network, giving authorised personnel the ability to store and analyse inspection and performance data from a remote location.
Documentation
Multimedia

X33 Series Bulk X-ray System
Suitable for Loose Bulk Product Applications
The X33 Series Bulk Variant marries advanced hygienic design with next generation x-ray technology to bring bulk food manufacturers a world-class product inspection solution.

Mettler-Toledo Safeline X-ray Company Video
Featuring Kinnerton Confectionery Manufacturer
Safeline X-ray is not just manufacturing x-ray systems for product inspection. We are also the global leader in designing the most advanced and most adaptable x-ray technology on the market. This short video will introduce you to our facility in the UK where we meet our customers, test products, develop and design innovative x-ray solutions to suit our customer needs.

5 Year Generator Warranty
Safeguarding the Heart of Your X-ray System
METTLER TOLEDO Safeline X-ray generators previously came with 30 months' warranty, however, we are so confident in the reliability of our generators that we are extending this to five years for our X-Series systems, when purchased with a Standard or Comprehensive Care Contract.
Service Care Packages
Service Offerings

All METTLER TOLEDO X-Series x-ray system generators come with a five-year warranty when a service contract is purchased.