X-ray inspection system X12 series
Simply Safeguarding Your Business.
The X12 X-ray is a cost-effective, reliable x-ray inspection system for food manufacturers that require a lower total cost of ownership.
Improve Product Quality
The X12 is able to detect hard-to-find physical contaminants, eliminating costly product recalls and protecting consumers as well as brand reputations.
Easy to Use
Automated product set-up coupled with our intelligent ContamPlusTM inspection software improves production uptime and reduces manufacturing costs.
User Friendly HMI
Intuitive menu navigation and automated set-up requires minimal operator training.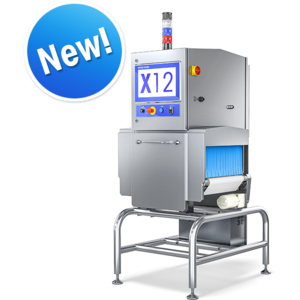 Product Family:XRInspection00040009
Specifications - X-ray inspection system X12 series
| | |
| --- | --- |
| Brand Protection | Outstanding sensitivity of metal, glass, mineral stone, calcified bone and high density rubbers |
| Compliance | Supports FSMA & all GFSI codes including BRC & IFS |
| Ease of Use | High performance x-ray software can reduce the need for manual adjustments and the potential for human programming errors |
| Increased Productivity | World class reliability and OEE reporting |
| Conveyor Speed (dependent on product dimensions) | 10 - 60 m/min |
| X-ray Detector Width and Diode Size | 300mm or 400mm - 0.4mm diode size |
| Industry | Pet Food; Food |
| Number of Lanes | Single lane |
| X-ray Generator | 150W Optimum Power (up to 85kV, up to 3.0 mA Glass Tube) |
| X-ray Beams | Single vertical beam |
| X-ray Emissions | < 1uSv/hr |
| Cooling Method | Air Conditioner |
| Operating Temperature | 5 °C - 40 °C |
| Power Supply | 208 - 240 Vac, 1 phase, 50-60 Hz, 10 A max |
| HMI | 15.6" Capacitive Touchscreen display (16:9 aspect ratio) |
| IP rating | IP65; IP66 |
| Product Type(s) | Packaged |
| Packaging Material | Aluminium Foil; Metalized Film; Cardboard; Plastic |
| Throughput Rate (dependent on product dimensions) | Up to 300 ppm |
| Material Number(s) | 30659737 |
Number of Lanes:Single laneNumber of Lanes:Single laneHMI:15.6" Capacitive Touchscreen display (16:9 aspect ratio)HMI:15.6" Capacitive Touchscreen display (16:9 aspect ratio)IP rating:IP65; IP66IP rating:IP65IP rating:IP66Product Type(s):PackagedProduct Type(s):PackagedPackaging Material:Aluminium Foil; Metalized Film; Cardboard; PlasticPackaging Material:Aluminium FoilPackaging Material:Metalized FilmPackaging Material:CardboardPackaging Material:Plastic
Safety Compliance Assurance
Meets EC safety standards (CE-marked).

Hygienic Design
Easy to clean and maintain thanks to rounded frame tubes with sloping surfaces to reduce accumulation of water and dust. Quick-release belt and removable curtains are ideal for quick cleaning routines.

Advanced Technology
Innovative detection technology that captures 5 times the signals and creates better images ensures better detection of contaminants and reduces false rejects.

Global Service Support
A global network of service experts provide fast remote and on-site support. Our comprehensive service offering allows you to achieve regulatory compliance, high performance, and maximum uptime throughout the life cycle of your product inspection equipment.

Enhancing Production Data Visibility
Ensure the highest levels of regulatory compliance through real-time data collection. ProdX, our PC-based software, constantly monitors and fully documents all production parameters, quality incidents, user interactions and performance verification routines.