C35 AdvancedLine
Precision and Versatility.
Its throughput of up to 600 packs per minute, the weighing range from 1/10 oz to 22 lb, and extremely high weighing accuracy, position the C35 AdvancedLine in the vanguard of checkweighing technology.
Customized Product Handling
Fully customizable, with 250 options to enhance performance and productivity. Full selection of product handling variants for problem-free product flow
Unparalleled in Challenging Environments
Designed for maximum endurance and reliability in wet, dry and harsh working environments. Specialized conveyors to match any production conditions.
Data Collection for Compliance Support
More than ten data communication protocols provide the fullest suite of data collection tools. Supports Industry 4.0 integration projects.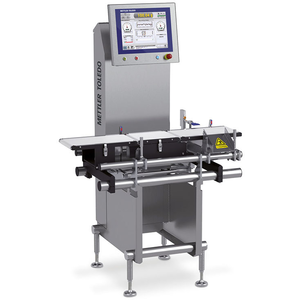 C35 AdvancedLine

A throughput of up to 600 packs per minute, a weighing range from 3 g to 10 kg and extremely high weighing accuracy positions the C35 AdvancedLi...


A throughput of up to 600 packs per minute, a weighing range from 3 g to 10 kg and extremely high weighing accuracy positions the C35 AdvancedLine at the vanguard of checkweighing technology.Its outstanding precision and versatility allow its use in all industrial production situations requiring 100 percent weight control, especially those where demanding and complex application requirements need to be achieved. C35 AdvancedLine checkweighers are available with specialized conveyors and handling options allow for the optimal transport of unstable or open products such as jars, trays and cans. The C35 AdvancedLine has been designed to enhance production line performance, up-time availability and quality. In addition, the C35 AdvancedLine supports all current global food safety standards, legislation and regulations.
Specifications - C35 AdvancedLine Checkweigher
| | |
| --- | --- |
| Accuracy | from ± 0.01 g (10 mg) |
| Throughput | max. 600 weighings/minute |
| Weighing Range | 3 g – 10 000 g |
| Material Number(s) | 24003500 |
Integrated Inspection Technologies
Available as a combination system with a choice of different product inspection technologies, ensuring that smaller footprints are achieved. Ideal as Critical Control Point for optimum quality and to safeguard brand reputation.

Weighing Terminal (HMI)
15-inch color touchscreen TFT display. Individual user access profiles with password protection. More than 30 available languages. Displays all key weight, production and configuration data.

Weighing Technology
Electromagnetic force restoration (EMFR) load cell, digital, maintenance-free, with temperature compensation, made in Switzerland.

Up to 33% Higher Performance
This means high, accurate throughput to enable tighter manufacturing tolerances in production. Improved processes mean an increase in overall equipment effectiveness to maximise your profits.

Global Service Support
An extensive global service network fully supports cross-border contracts and ensures timely support, availability, and rapid delivery of spare parts. This reduces downtime and keeps production running smoothly.

Documentation