pH Sensor Pure Water pHure ISM
Convenient Measurement in Pure Waters.
The pHure sensor with an internally-pressurized gel reference system delivers ease of use to simplify pH monitoring in low conductivity water. This Intelligent Sensor Management (ISM) pH sensor provides predictive sensor-health diagnostics.
High Dependability in Low Conductivity
The pHure sensor with pressurized gel electrolyte design delivers convenience with highly accurate pH measurements for pure water applications.
Fast Response Time
This pH sensor, when combined with a low volume housing to prevent particle accumulation, ensures a fast, reliable response time.
Advanced Sensor Diagnostics with ISM
The pHure sensor uses ISM advanced diagnostics that adapt to your processes to help plan calibration and maintenance of your pure water pH sensor.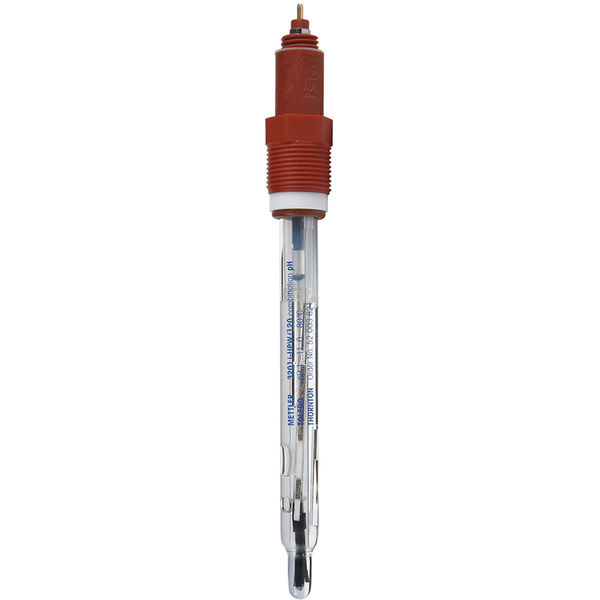 Product Family:pH sensors00020129
Specifications - pH Sensor Pure Water pHure ISM
Process Connection

¼" NPT(F) in/ out
Operating Temperature (Celsius)

0 °C - 80 °C
Operating Temperature (Fahrenheit)

32 °F - 176 °F
Sample Flow rate

50 to 150 ml/min
Sample Conductivity > (μS/cm)

1.5
Refillable Electrolyte

No
pH Range

1 – 11
Sterilizable/Autoclavable

No
Sensor Length

120 mm
Cable Connector

AK9
Operating Pressure (Bar)

0-7 barg @ 100 °C
Model Family

pHure
Other certificates

CE
pH Sensing Technology

Glass Membrane Suitable For Low Temperatures (LoT)
Reference System

Gel Electrolyte
Temperature Sensor

Digital
Hazardous Area Approvals

No
ISM (Digital) or Analog

ISM (Digital)
Measurement Parameter

pH
Primary Media/Application

Other Water Processes
Semiconductor Water
Power Plant Water/Steam

Shaft Material

Glass
Hygienic/Biocompatibility Approvals

No
Operating Pressure (PSI)

0-101 psig @ 212 °F
Reliable Low Conductivity Measurement
Designed to excel in challenging conditions, pHure sensors deliver highly accurate pH measurement in pure waters. Stability of the reference diaphragm/junction potential provides monitoring consistency in low conductivity applications.

Faster Response, Simplified Maintenance
With a special glass membrane and an integrated temperature sensor, the pHure sensor ensures a fast, reliable response. Prioritize convenience by extending lifetime and minimizing maintenance with the internally pressurized gel electrolyte.

Increase Process Uptime
Leveraging ISM technology, seamlessly upload calibration data from lab to process for fast, error-free start-up. Achieve uptime and maintenance goals with predictive diagnostics on sensor calibration or replacement needs adapted to your process conditions.

High Measurement Stability
The pHure sensor's controlled sample flow path with minimum volume reduces the accumulation of corrosion particles around the electrode membrane. A sealed stainless steel housing prevents contamination from air and provides electrical shielding.

Documentation
Accessories
Sensor Calibration & Maintenance Tools
The DS AK9-RJ12 is a USB cable adaptor for connecting ISM 1-wire sensors to iSense software. This allows pH, DO and CO2 sensors to be evaluated, maintained and calibrated in the workshop or laboratory.

Diagnostics Away From the Transmitter
The iLink module allows you to access all of the diagnostics of your ISM sensors away from the process with iSense desktop software.
Application Profiling Drives Performance
Store application data on iSense and load directly into an ISM sensor. This allows sensors to learn from preceding sensors in the same process.
Easy Access to Paper Free Documentation
The iLink cable allows sensor calibration and adjustment protocols to be generated automatically in iSense and stored in a fully digital database.
Material No.: 52300383
Consumables
Buffers for In-Line pH Sensors