Differential Scanning Calorimetry (DSC)
Glass transition temperature and crystallization determination by Differential Scanning Calorimetry
Differential Scanning Calorimetry (DSC)

Differential scanning calorimetry (DSC) is the most frequently used thermal analysis technique. DSC measures enthalpy changes in samples d...


Differential scanning calorimetry (DSC) is the most frequently used thermal analysis technique. DSC measures enthalpy changes in samples due to changes in their physical and chemical properties as a function of temperature or time.

The DSC utilizes an innovative DSC sensor with 120 thermocouples which guarantees unbeatable sensitivity and outstanding resolution. Measurement principles Differential scanning calorimetry (DSC) measures the difference between the heat flows from the sample and reference sides of a sensor as a function of temperature or time.

Physics of Differential scanning calorimetry

Differences in heat flow arise when a sample absorbs or releases heat due to thermal effects such as melting, crystallization, chemical reactions, polymorphic transitions, vaporization and many other processes. Specific heat capacities and changes in heat capacity, for example during a glass transition, can also be determined from the difference in heat flow.

Temperature range and cooling options

You can adapt the system to your requirements depending on the temperature range in which you want to measure. The IntraCooler is a sealed system requiring only electrical power. It is therefore advantageous in locations where liquid nitrogen is undesirable or not available. Liquid nitrogen cooling offers greater flexibility because it allows you to measure over the entire temperature range.

Experience the ultimate in ease-of-use thanks to experiment launch with One Click™ and built-in gas handling. A cleverly designed, factory endurance tested autosampler with single axis movement and flexible crucible handling provides efficient and reliable routine operation around the clock.

Differential Scanning Calorimeter (DSC)

Thanks to their modular design, the DSC instruments as part of the METTLER TOLEDO Thermal Analysis Premium or Excellence Line are the best choice for manual or automatic operation, from academic research and industrial development to quality assurance and production.

Measure samples with the most sensitive DSC on the market – ideal for investigating all kinds of materials and effects

The DSC utilizes an innovative patented DSC sensor with 120 thermocouples which guarantees unmatched sensitivity.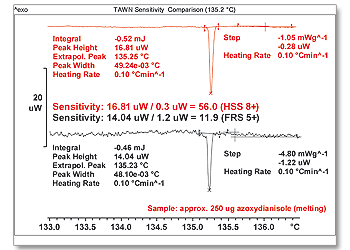 Amazing sensitivity
A quantum jump in sensor technology enables us to offer the highest sensitivity sensors available in DSC instrumentation and allows you to detect the weakest thermal effects. The signal-to-noise ratio, an important instrument parameter, is determined by the number of thermocouples and their specific arrangement.

Outstanding resolution
The signal time constant determines how well close-lying or overlapping thermal effects are separated from one another. We set unprecedented and unparalleled performance standards due to our high thermal conductivity ceramic sensor material with its low thermal mass.

Modular concept
Face your new measurement requirements with flexibility: protect your investment through the modularity and upgradeability of our innovative instrument solutions.
Documentation
Applications

Our tips and hints booklet helps you achieve reliable and reproducible thermal analysis data.
Brochures

Differential scanning calorimetry (DSC) is the most frequently used thermal analysis technique. DSC measures enthalpy changes in samples due to chang...

Differential scanning calorimetry (DSC) is the most frequently used thermal analysis tech-nique. DSC measures enthalpy changes in samples due to chang...

Thermal analysis is a well-established analytical method that is widely used in many different fields. It provides laboratories with valuable results...

Thermal Analysis comprises a group of techniques that measure the physical or chemical properties of a sample as a function of temperature or time whi...
Datasheets

TOPEM® is an advanced technique of temperature modulated DSC, which permits the simultaneous determination of sample properties as a function of time...
Services
Explore our Services - Tailored to Fit your Equipment
We support and service your measurement equipment through its entire lifecycle, from installation to preventive maintenance and calibration to equipment repair.
Applications
New Applications, Review of Analytical Topics, Practical Tips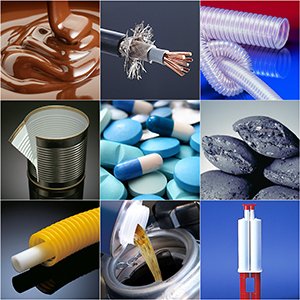 Thermal Analysis Applications
Advanced Search Overview
The future of thermal analysis
Hundreds of interesting articles on thermal analysis are now available from METTLER TOLEDO. They describe new applications, review analytical topics or give practical tips on how to perform and evaluate measurements. The articles have been taken from UserCom, our bi-annual technical customer journal, and from our comprehensive application handbooks.
Take advantage of METTLER TOLEDO's more than 40 years of experience in thermal analysis
Nov 28, 2019
Dec 12, 2019
Jan 30, 2020
Feb 27, 2020
Mar 26, 2020