Rondolino
Automated titration stand for general titrators
Compact and Simple Automation
Rondolino is a carroussel-type titration stand for METTLER TOLEDO general titrators used to automize titrations. It can be loaded with up to 9 sample beakers and one conditioning beaker in a unique position.

Optimized user guidance
Plug and Play installation and optimized user guidance via a single switch to configure conditioning and rinsing cycles.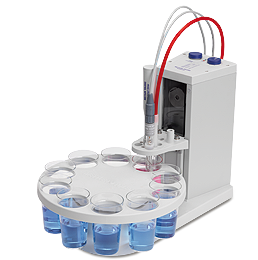 Compact, space-saving design
With a footprint of just 25 x 35 cm, Rondolino needs considerably less space than a typical sample changer.

The right washing system for every requirement
The dip rinsing system ensures that carryover does not occur. Electrodes contaminated by sticky or viscous samples are best cleaned using the optional PowerShower™ and membrane pump combination.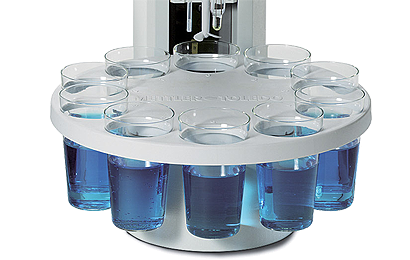 Time-saving and secure delegation of simple tasks
Besides series of up to 9 samples, single samples are also more quickly processed because the beakers only have to be placed in the rack. All samples are analyzed in exactly the same way, which significantly improves the reproducibility of the analyses. And when the titration is completed, the electrode is put back into the conditioning beaker.
Products and Specs
Products and Specs
Filter:
Set filter
Clear All
Order No.
Through Put
Dimensions
Order No.51108500
Through Put9 samples + 1 conditioning beaker
Dimensions25 x 35 cm