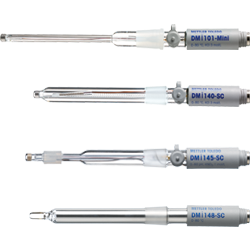 The range of metal sensors includes silver ring sensors for precipitation titrations, a platinum ring sensor for all redox titrations, and a double platinum pin electrode for voltametric or amperometric titrations. The Plug & Play sensors are equipped with an integrated Sensor Chip for automatic recognition and secure handling. All sensors are manufactured to a high quality standard. This is documented by the quality certificate shipped with each electrode. Furthermore every electrode comes with a unique serial number for full traceability.
Products and Specs
Documentation
Extended Product Information

Integrated Sensor Chip for full Plug & PlayThe Sensor Chip in the electrode head stores sensor data and sends it to the titrator setup when plugged in...