OptiOx Optical Oxygen Measurement
OptiOx - the robust and easy way to measure dissolved oxygen
METTLER TOLEDO is adding two portable devices and one sensor to its range of dissolved oxygen measurement devices.
 The new InLab® OptiOx sensor for measuring dissolved oxygen is available with three different cable lengths (1.8m/5.91ft, 5m/16.40ft, 10m/32.81ft). The robust design combined with the optical measuring principle, which is based on RDO® (Rugged Dissolved Oxygen) technology, makes sensor measurements and maintenance easier than ever before.
Stable results and rapid response time – The optical measuring principle deployed by the InLab® OptiOx means that the oxygen in the sample is not chemically consumed during the measurement. This delivers highly reproducible results and means that the sample doesn't have to be stirred.
Rapid measurement using stored factory calibration – Each OptiOx module features a chip containing the factory calibration. Start your measurements as soon as a new module is plugged in. The measuring system is also highly stable so frequent calibration is no longer needed.
Simple handling and maintenance save time – The optical measuring principle makes electrolyte solutions superfluous. A used module can be replaced with a new one by simply removing the old one and fitting a new one in its place.
Suitable for a wide range of applications – The InLab® OptiOx's robust design and matching accessories make it ideal for many types of applications. It is perfectly equipped for use in the lab and in hostile environments. The special OptiOx BOD adapter makes the sensor perfectly suited for measurements in all common BOD canisters. The steel OptiOx protective add-on offers the sensor protection in hostile environments and its light weight means it can be dropped to lower measuring points.
The SevenExcellence S900 benchtop instrument provides customers a premium benchtop solution to measure dissolved oxygen (DO) in aqueous media. In combination with the new digital optical dissolved oxygen technology (OptiOx®), the S900 meter guarantees precise and highly reproducible results.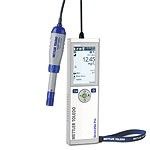 The two new SevenGo (Duo) pro™ measuring devices are watertight to IP67 protection, so you don't have to worry about dust, dirt or moisture penetrating them.
The S9 is a robust single-channel device for measuring dissolved oxygen. The device offers impressive reliability by incorporating simple user prompts based on text menus and tried and tested ISM®. The professional SG98 multiparameter device covers the main pH value, ion and dissolved oxygen parameters. Practical functions such as automatic compressed air compensation and the wireless IR communication interface save time and ensure correct results.