Compact Titration 10S Line
Specifically designed for simple and secure titration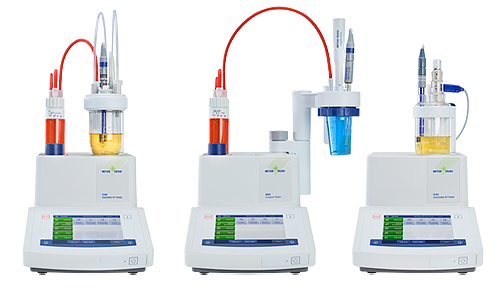 New Compact Titration 10S Line
The new Karl Fischer volumetric, Karl Fischer coulometric, and potentiometric Compact titrators ensure fast and precise execution of routine operations.
Designed for dedicated and simple tasks, the strength of the Compact 10S line is its measurement performance in basic chemical, food and academic applications.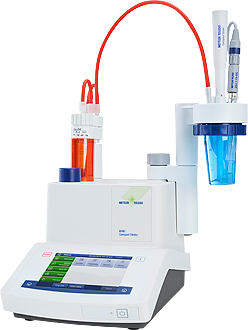 The Intelligent Helper
For simple titrations
Thanks to the One Click® usability concept, you are able to conduct your basic titration analysis from one single device by simply adding specific shortcuts onto the Homescreen. The METTLER TOLEDO Potentiometric Compact G10S Titrator is specially designed for routine applications and simple operation.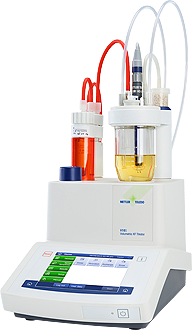 The Generalist
For water determination up to 100%
The Volumetric Compact Karl Fischer V10S Titrator has been designed for a wide range of water content applications: determinations from 100 ppm to 100% water – fast and precisely. The titration vessel is optimized to retain a low drift value and offers the possibility to determine the water content of liquid, solid and gaseous samples.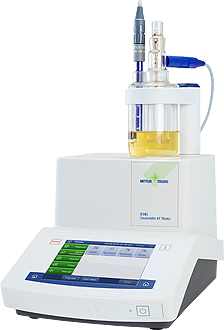 The Specialist
For low water content up to 5%
Accuracy and precision is improved further if the titrant is not added with a burette, but produced directly in the solution with a current applied by a generator cell.
The Compact coulometric C10S Karl Fischer Titrator offers particularly fast and precise titration of samples with a low water content from 1 ppm to 5%.
One Click User Interface
For simple and secure operation
The large color Touchscreen features the simple-to-understand and fast-to-operate One Click user interface. All users have their own Homescreen with dedicated Shortcut buttons to directly start specific routine tasks.

Intelligent Burettes
Errors are now a thing of the past
When the burette is installed, the titrant is automatically recognized. Important data such as concentration or lifetime is saved on the RFID chip and directly transferred to the titrator, where it is stored and can be monitored. Using the wrong or an expired titrant is therefore impossible.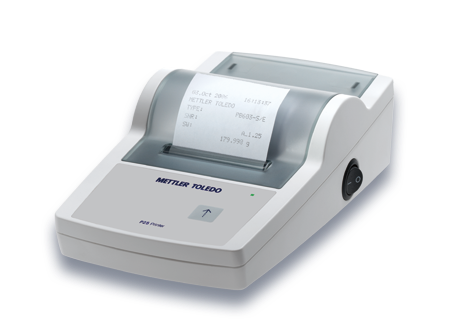 Flexible Data Management
Keep your data available
The modern interface of the 10S line offers more flexibility on data export. With the Ethernet connection csv, pdf or xml files can be sent to network printers or local servers. The USB connection of the titrator enables command of compact or local printers as well as data storage on a USB stick.
One Click is a Registered Trademark of METTLER TOLEDO in Switzerland, the European Union, Russia and Singapore.
LabX is a Registered Trademark of METTLER TOLEDO in Switzerland, USA, China, Germany and a further 13 countries.