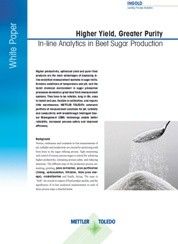 White Paper: Beet Sugar Production
Sugar juice liming, carbonation, filtration, storage and crystallization are crucial in respect of final product quality. High process temperatures, a wide pH range, and the presence of abrasive suspended solids negatively affect the performance and lifetime of analytical sensors. METTLER TOLEDO has decades experience of producing innovative, dependable, robust in-line measurement systems that tolerate harsh sugar refinery processes. To this sensor technology we have now added Intelligent Sensor Management (ISM). ISM simplifies sensor handling and reduces maintenance and downtimes through predictive diagnostic tools.
In this white paper, we examine the beet sugar production steps and how sensors with ISM mean producing pure sugar of consistent quality can be easily achieved.