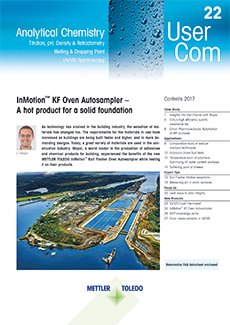 Analytical chemistry techniques
UserCom showcases special solutions for key applications of analytical chemistry techniques across multiple industries. It contains customer stories, application know-how, expert tips for advanced users, and updated information on new products. The "Focus" section concerns current topics in good manufacturing practices, such as data integrity and the electronic management of data, as required in regulated environments.
Published annually from Mettler-Toledo Analytical GmbH, UserCom includes titration, density, refractometry, melting/dropping point and UV/vis applications and expert knowledge.
UserCom 22 Contents:
Case studies
Insights into Karl Fischer titration with Mapei
Automation of UV/VIS analyses for higher efficiency in the Coty Inc. quality assurance lab
Automatic analysis of waxy substances by Dihon Pharmaceuticals
Applications
Comparative study of sodium analysis techniques
Boiling point and water content determination in hydraulic brake fluids
Temperature scan of polymers: optimizing Karl Fisher water content analyses
Softening point of cheese


Expert tips
Karl Fischer Titration essentials: verification of linearity
Overcoming the challenges of pH measurements in small samples


Focus on
Lean ways to data integrity – reducing effort and securing compliance
New Products


CuveT thermostat for exacting UV/VIS analyses  – compact, fast and safe
InMotion™ KF oven autosampler for accurate water determination
Step in to our world with the new Good Electrochemistry Practice™ knowledge portal
Color measurement with UV/VIS spectrophotometry
Download this document to learn more about applications of various analytical techniques and get some expert tips.