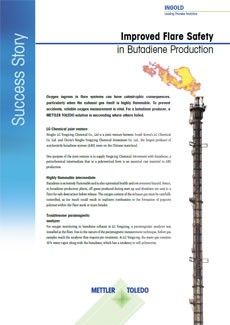 Success Story: Improved Flare Safety in Butadiene Production
In butadiene production, oxygen ingress in the flare system for burning off-gases can have catastrophic consequences. Reliable and rapid oxygen measurement is vital in preventing accidents and achieving flare safety.
Ningbo LG Yongxing Chemical Co., Ltd is a joint venture between South Korea's LG Chemical Co. Ltd. and China's Ningbo Yongxing Chemical Investment Co. Ltd., the largest producer of acrylonitrile butadiene styrene (ABS) resin on the Chinese mainland. For oxygen monitoring in butadiene exhaust at LG Yongxing, a paramagnetic analyzer was installed at the flare. Due to the nature of the paramagnetic measurement technique, before gas samples reach the analyzer they require pre-treatment. At LG Yongxing, the waste gas contains 10 % water vapor along with the butadiene, which has a tendency to self-polymerize. Condensed water and polymerized butadiene would regularly block the sampling tubing and pre-treatment filter, resulting in failure of the measurement and significant maintenance to clear the blockage.
In the hope of obtaining more dependable measurements, engineers removed the paramagnetic system and installed a tunable diode laser (TDL) analyzer from METTLER TOLEDO.
Read in the case study how the TDL ensures flare safety in their facility.
 
The GPro 500 is an advanced TDL spectrometer, but unlike most is not of a cross-stack design: Instead, the GPro 500 features a probe at the end of which is a three-sided, reflective prism (corner cube) which directs the source laser beam back to the receiver in the sensor head. This design allows installation of the GPro 500 in pipes as narrow as DN100. In addition, installation is much simpler as no alignment between source and receiver is required. Maintenance of the sensor is minimal, amounting to verification approximately every 12 months and occasional cleaning of the optical windows. The predictive diagnostics of METTLER TOLEDO's Intelligent Sensor Management (ISM®) technology continuously monitor the optical path quality and determine the cleaning requirement.