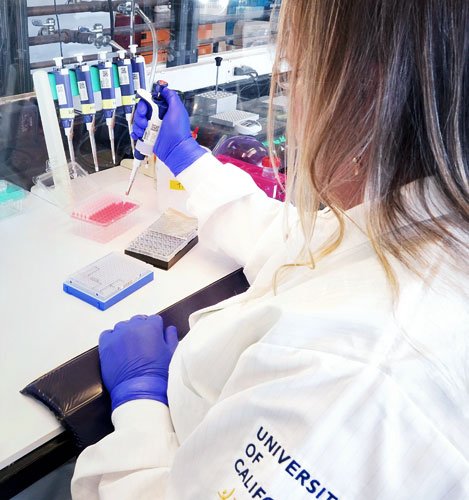 University of California Davis using Rainin Pipettes and Tips
The Real-time PCR Research and Diagnostics Core Facility, at the University of California Davis School of Veterinary Medicine, provides diagnostic and research services to both private and academic veterinary communities across the United States.
The core facility's work encompasses detection of bacterial and viral pathogens by real-time PCR, the gold standard for quantitative PCR and method of choice for PCR diagnostics due to its ultrasensitive lower limit of detection, specificity and rapid turnaround time. On a typical day, it will receive over 100 biological samples from veterinarians. They are processed by nucleic acid extraction and amplification, then subjected to panel-based assays. To enable quick diagnosis, results are returned the same day, permitting the implementation of measures to prevent contagion.
METTLER TOLEDO's Rainin Pipet-Lite XLS+ single- and multi-channel manual pipettes have been an integral part of the core facility's workflow since its manager, Samantha Barnum, joined over 15 years ago. Due to the sensitivity of real-time PCR, cross-contamination is of major concern for each project. To prevent compromised results, the core facility was conceptualized to physically separate workspaces designated for the preparation of reagents and of samples, and those for their amplification and analysis. A dedicated set of pipettes has therefore been allocated to each workspace.

The core facility recently switched to purchasing METTLER TOLEDO's Rainin TerraRack filtered pipette tips. First, TerraRack's pre-sterilized tip packaging made them conveniently ready-to-use without fear of contamination; secondly, TerraRack's PETE packaging is 100% recyclable—a feature essential for meeting the University of California's system-wide goal of zero waste. Under this framework, the ten campuses must reuse, recycle or compost their waste; by eliminating non-hazardous solid waste, the university system estimates 6,779 tons can be diverted from landfills per year.
 

A sustainable investment
Each TerraRack serves as a clean, single-use, completely recyclable pipette tip rack for the core facility. The packaging contains 50% less plastic than conventional racks, without sacrificing strength. PETE can easily be recovered to produce beverage bottles and other lightweight containers, making TerraRack the most eco-friendly tip rack on the market.
With TerraRack, the Real-time PCR Research and Diagnostics Core Facility recognizes the impact they can make by adopting a green product that does not compromise their technical requirements. Mrs. Barnum gladly recommends TerraRack pipette tips to improve sustainability practices and minimize environmental impact upon disposal.
In fact, according to the University of California Office of the President, the Davis campus diverted 74% of its waste from landfills in 2019. With METTLER TOLEDO's continued dedication to providing greener packaging solutions, Mrs. Barnum and her colleagues at the Real-time PCR Research and Diagnostics Core Facility have made Rainin products an integral part of their zero-waste initiative.