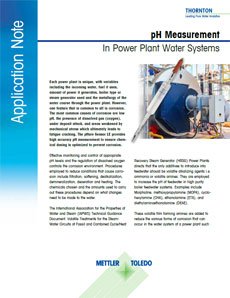 pH measurement application note
This application note on pH control in water treatment explains that although all power plants have unique variables, they all struggle with corrosion. The most common causes of corrosion are low pH levels, the presence of dissolved gas (oxygen), under deposit attack, and areas weakened by mechanical stress which ultimately leads to fatigue cracking. Corrosion can lead to damaged plant equipment and unplanned shutdowns.
The application note details how the use of pH sensors in pure water applications for power plants helps prevent corrosion. Measuring pH accurately allows the right amount of chemicals to be dosed into the water system. This ensures that enough are added to meet the specifications set to keep the system operating optimally without over addition, which would represent an unnecessary overuse of chemicals and associated overspend.
 
Lastly, this application note provides information on a suitable pH measurement solution from METTLER TOLEDO. The pHure Sensor LE provides high accuracy pH measurement to ensure chemical dosing is optimized to prevent corrosion. The M800 Water Transmitter is a multi-parameter monitoring solution, and can accept up to four analytical sensors in any combination of pH, dissolved oxygen, conductivity and TOC.