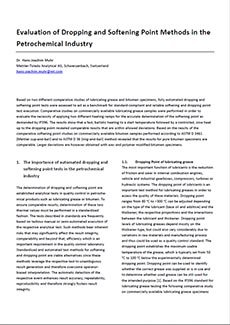 Softening point of bitumen
Evaluation of dropping and softening point methods in the petrochemical industry
Based on two different comparative studies of lubricating grease and bitumen specimens, fully automated dropping and softening point tests were assessed to act as a benchmark for standard‐compliant and reliable softening and dropping point test execution.
Dropping point of lubricating grease
Comparative studies on commercially available lubricating grease samples were performed in order to evaluate the necessity of applying two different heating ramps for the accurate determination of the softening point as demanded by IP396. The results show that a fast, ballistic heating to a start temperature followed by a controlled, slow heat up to the dropping point revealed comparable results that are within allowed deviations.
Softening point of bitumen
The two standards ASTM D3461 (Mettler cup‐and‐ball) and ASTM D36 (ring‐and‐ball) for softening point determination of bitumen, or asphalt, were compared. The tests revealed that the results for pure bitumen specimens are comparable. Larger deviations are however obtained with wax and polymer modified bitumen specimens.