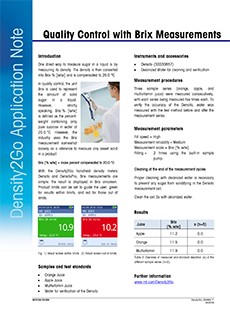 quality control of brix
Strictly speaking, Brix is used to represent the number of grams of sucrose dissolved in 100 grams of liquid. In reality, however, because there are compounds besides sucrose such as fructose, vitamins, minerals, amino acids, and more exist, the food & beverage industry uses the Brix value as a loose reference to measure any sweet solid in a product. As such, the Brix value is normally used as a quality control parameter in the beverage industry, used most often for products like juice, soft drinks, and wine.
Brix quality control can be performed using a density meter, hydrometer, or refractometer. This application note covers the measurement of the Brix value of different juices using the Density2Go portable density meter, which allows for quick and simple measurements – whether in the QA/QC lab or near the production line.