In-line Analytical Measurement Systems in Brewing Industry
New website for the brewing industry highlights the values of digital, in-line analytical measurement systems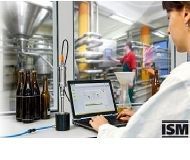 In-line Analytical Measurement Systems in Brewing Industry
The continuous, real-time data from in-line analytical sensors allows breweries to respond rapidly to unexpected process conditions, reduce water and product wastage, and lower the reliance on lab measurements. METTLER TOLEDO has expanded the benefits of analytical systems through a technology that helps optimize process control and maximize measurement system uptime, as explained on their new competence center website.
For many years, the value of in-line analytical measurement systems has been recognized for monitoring product quality, dissolved gas levels, water to beer phase transition, etc. For reliable operation, measurement sensors must be kept in good order, but it can be difficult for operators to tell when maintenance or calibration is required. Innovative process analytical systems with built-in intelligence can solve this.
Intelligent Sensor Management, or simply ISM®, is METTLER TOLEDO's digital technology for in-line process analytical systems that enhances measurement integrity, simplifies sensor operations, and reduces sensor lifecycle costs. ISM's predictive diagnostic tools keep operators informed of sensor "health", so that forthcoming maintenance can be scheduled for when it will be required. The benefits of ISM can translate into substantial gains for breweries in relation to production process reliability.
METTLER TOLEDO's new competence center website for the brewing industry contains white papers, best practice guides, webinars, and other useful information explaining how Intelligent Sensor Management can be used in beer production to improve operational processes.
Visit the competence center for the brewing industry at www.mt.com/ISM-brewery