High-accuracy weigh modules offer unique features to avoid cross-contamination during operation and facilitate sanitation before product changeover. These ultra-compact weigh modules are used for tablet-testing devices and automatic sample preparation.
Tablet testing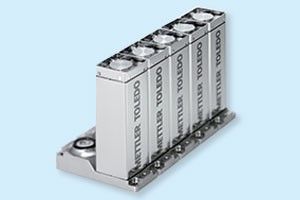 Tablet testing
A tablet-press manufacturer developed a new machine optimized for small lot sizes and frequent product changes. Format changes and cleaning processes had to be fast to enable economical production of small quantities. The testing device associated with the new press had to have an integrated weight-control mechanism for the tablets to ensure consistent, safe dosages.

Size and design made the difference
The ultra-compact WMC weigh module from METTLER TOLEDO was chosen for the test device because of its ingress protection. This critical feature, as well as the application of purged air that speeds up drying, made WMC the right choice for frequent product changeovers in the sensitive testing application.

Permanent airflow prevents dust from entering

Tablet testing
A permanent airflow under the weighing pan prevents dust from entering the weigh-module interior. It also avoids dust deposits close to the weighing pan that can build bridges and influence weighing.


IP56 sealing protects during liquid washdown
The inflatable bellow seals the weigh module and provides temporary IP56 protection to allow washdown with liquids. The bellow is made of FDA-compliant material used in the pharmaceutical industry.

Purge air for fast drying after washdown
A temporary purge-air stream speeds up drying after cleaning with liquids. This helps to avoid dust sticking to the weigh module because of remaining humidity from the washdown process.
WMC also provides a capacity of 20 grams with a readability of 0.01 milligrams. This excellent readability along with IP56 protection during washdown makes it ideal for your most sensitive manufacturing applications.