Weighing Gold and Precious Metals
Learn How to Best Weigh Gold
Weighing gold and precious metals requires an accurate and reliable gold scale or jewelry scale. Read further to learn more about gold weighing applications and how to avoid errors when weighing gold and other precious metals.
Gold is a relatively rare metal, prized for its glistening appearance and high value. Its malleability enables it to be fashioned into many different intricate forms, explaining its wide use in coinage and in jewelry manufacture. Gold and other precious metals, such as silver and platinum, are popular investment choices thanks to their relatively stable value within global markets.
In the buying and selling of gold by bullion traders, jewelry manufacturers, goldsmiths and jewelry retailers alike, the gold purity and the gold weight are of critical importance. Weighing gold accurately is crucial to both buyer and seller, and is an important part of the sales transaction.
Gold purity can be measured precisely by determining the density of the gold. The accuracy of this measurement also depends upon the accuracy of the jewelry scale or gold scale used to carry out the density determination.
Jump to one of the following sections to explore and learn more:
Gold Weighing Applications
Gold mining and gold ore
Prior to any mining taking place, large quantities of rock are extracted from a potential mine and thoroughly tested. The amount of gold present in the rock determines if extracting the gold ore is financially viable.
This process involves first weighing large samples of the gold ore using a high capacity balance. Small sub-samples are analyzed using refining techniques such as fire assay, which requires the use of a high accuracy analytical balance or a microbalance.
Weighing gold bullion
A high capacity gold balance or gold scale is required to weigh bullion in the form of bars or ingots. The London Bullion Market Association (LBMA) specifies that a 'Good Delivery Bar' of gold bullion should weigh 400 troy ounces, which is equivalent to 12.4 kg.
METTLER TOLEDO's high capacity XPR precision balance helps traders fulfill the requirements of LBMA's good trading practices for gold bullion. Built-in quality assurance functions assure accurate results, whilst overload protection safeguards the high-performance weighing cell. Weighing results can be saved on the balance or transferred to a PC or USB stick to ensure traceability. With the dedicated bullion weighing kit, heavy gold bars can be loaded and unloaded with ease.
Gold hallmarking
Hallmarks protect consumers from dishonest jewelry manufacturers. Such unscrupulous producers may reduce the amount of gold contained within the gold alloy used to make the jewelry or use a gold coating over a metal core (for example, tungsten is commonly used for fake gold jewelry). Such differences are hard to detect and the buyer ends up paying for more gold than he actually receives.
The gold hallmark includes the manufacturer's mark (optional), a 'Common Control Mark' that identifies the precious metal, the gold purity, and the mark of the office that provided the hallmark.
Offices providing hallmarking services test each piece of jewelry to determine the gold purity. Fire assay is a commonly used method and requires the use of a high accuracy analytical balance or a microbalance.
Gold jewelry production
In a gold jewelry manufacturing environment, balances and scales are used during the creation of the gold alloys, for measuring gold purity by density determination, and for weighing the final gold jewelry pieces. With many scales in one place, the possibility to connect the scales over an internal network simplifies documentation of results, ensures traceability, and provides cost savings through more efficient processes.
Gold jewelry wholesalers
For weighing larger quantities of gold or for bulk weighing of mass-produced gold jewelry pieces, an accurate high capacity scale is essential. Connecting a printer makes it easy to print out results, avoiding handwriting mistakes and ensuring an accurate record of transactions.
Gold jewelry retailers
Weighing gold accurately is essential to the success of all gold jewelry retailers. Customers must trust the weighing results or the retailer's reputation will be at risk. Using an extra display so customers can see the weight at the same time provides them with extra reassurance. By connecting a printer, results can be printed out, and an order ID can be included if required. The cashier uses the details on the printout when the customer is ready to pay. This simplifies the process for the jewelry retailer and the customer has the confidence of knowing that the transaction has been handled correctly. In retail applications, where a product is sold by weight, the gold weighing process must be Legal for Trade.
METTLER TOLEDO JET jewelry scales and JE jewelry scales have large displays that enable the weight results to be read clearly, even under the bright lights of a jewelry store. METTLER TOLEDO's jewelry printer simply plugs into the connection at the back of the balance. In addition, the JET and JE jewelry scale enable you to connect a printer and auxiliary display at the same.
Pawn and gold buy-back shops
Recycling old or unwanted gold jewelry helps to meet the global demand for gold. Pawn and gold buy-back shops use density determination as a first and quick indicator of gold purity. This can be achieved by installing a dedicated density kit onto the weighing pan of a jewelry scale or gold scale or by utilizing the under-the-balance weighing functionality. Here, the jewelry is suspended in a container of liquid below the balance and is a useful method for large and substantial pieces. METTLER TOLEDO JET gold scales and JE gold scales feature a dedicated hook on the base for this purpose.
Gold Know-How
Gold Purity or Gold Fineness
Gold is weighed in troy ounces, where 1 troy ounce is equivalent to 31.1034768 grams. However, gold purity, sometimes referred to as gold fineness, is measured in karats (k). Pure gold is 24 karats (24k). Due to the softness of pure gold, it is often mixed with other metals to create a gold alloy when creating jewelry pieces. This gives them a higher level of resilience to withstand everyday use.

The amount of gold in the alloy is given as the number of twenty-fourths. For example, gold jewelry made from 18k gold contains 18/24 gold (this equates to 75%).
24k gold = 24/24 = 100% gold
18k gold = 18/24 = 75% gold
14k gold = 14/24 = 58.33% gold
9k gold = 9/24 = 37.5% gold
Measuring Gold Purity via Density Determination
Pure gold is a relatively dense material with a density of 19.34 g/mL when measured at 20°C. To confirm the purity of an item of gold or a piece of gold jewelry, the density can be measured and the results compared to the density of pure gold.
The density of the item is determined by first weighing the item in air and then again submerged in water. This can be achieved using a dedicated density kit installed on a jewelry scale or gold scale. Alternatively, the item can be weighed first in air by suspending it below the scale and then a water bath is raised up to cover the item (this method is particularly suitable for large items).
The results of determining density by this process are dependent upon the ambient temperature. This must be adjusted for in the density calculation.
Measuring gold purity via density determination provides a quick, first indication of the purity. Further investigations, such as using x-rays, may be required to determine if the jewelry has a fake core. For example, the density of tungsten is comparable to that of gold and can be hidden under the gold alloy.
Legal for Trade Gold Weighing Scales
In many countries, where a product is sold by weight, the scale or balance used must be a 'Legal for Trade ' version (sometimes referred to as an 'Approved' version). The regulations vary from country to country, and retailers must ensure they meet local requirements. Legal for Trade scales and balances undergo more rigorous testing than a standard scale or balance. Only scales and balances that successfully pass the tests can be declared as Legal for Trade. Such scales and balances are sealed at the manufacturer's site to prevent the scale from being opened by unauthorized personnel.
Do You Need Support?
Weighing gold must be done accurately and correctly to ensure you meet local regulations and ensure that you have the trust of your customers.
If you need any further information or support, or would like assistance to choose the right jewelry scale, our team of experts is here to help.
The Daily Challenges of Weighing Gold - Plus METTLER TOLEDO Solutions
Reading the display under bright lights
The bright lights in a jewelry store or gold retailer are wonderful for showing off the shine of the gold and the fire in the precious stones. However, the glare of the lights can make it difficult to read the figures on your balance display. Errors in reading the gold weight value can mean money is lost or even that your customers lose confidence in you. METTLER TOLEDO jewelry scales and gold scales have big, bright screens with large figures that are easy to read in all lighting conditions. The screen is slightly angled for the perfect reading position.

Adjusting the level of your scale
Before starting your gold weighing process, you must ensure your gold scale is perfectly level for it to work accurately. But how easy it is to check your balance is level and then adjust it when the level indicator bubble is at the back? All METTLER TOLEDO jewelry scales and gold scales have the level indicator located at the front. You can see at a glance if your balance is level. Moreover, if you need to make an adjustment, it is easy to monitor the indicator as you rotate the adjustable feet.
Adding an extra display for your customers to see
Some local regulations stipulate that gold and jewelry retailers must have a second display for customers to see. METTLER TOLEDO's auxiliary display simply plugs into the connection at the back of the gold scale. The cable is long enough for it to be placed wherever it is most convenient for the customer to see, or it can even be mounted on a wall within easy sight.
Allowing for temperature variations
When the ambient temperature changes, it affects your final gold weighing result. This can be a challenge in hot or air-conditioned rooms. It is therefore important to adjust your gold weighing instrument according to the temperature under which it is normally being used. The traditional way to test your scale is to place a test weight of known value on the scale and observe the result. The balance is then adjusted so the scale shows the true amount of the test weight.
Selected METTLER TOLEDO jewelry scales and gold scales have internal test weights so that all you have to do is press a button and the scale makes the adjustment for you. JET gold balances and scales have built-in technology that continuously monitors the surrounding temperature and automatically makes the adjustment whenever it is necessary. This technology (called FACT) also reduces the amount of routine testing that you need to do so it helps you save time and money too.
Documenting and tracking results
Writing down weight results and transactions by hand takes time and mistakes can be easily made. Connecting a printer means results and associated information can be printed out in a matter of seconds. In jewelry retailers, the printouts help simplify the payment process at the point of sale. In addition, they can be archived to provide a complete record of all weight results and transactions. To simplify documentation even further, METTLER TOLEDO jewelry scales and jewelry balances have a built-in function (called PC Direct) that enables you to transfer your weight results straight to your computer at the touch of a button.
Accurate and reliable - smart features for trusted gold weighing
High readability for gold assays
All the basic functions you need for your daily gold weighing
High capacity for large items and bulk weighing
Compact and portable for weighing gold anywhere
With dedicated bullion weighing accessory for safe and easy loading/unloading of heavy gold bars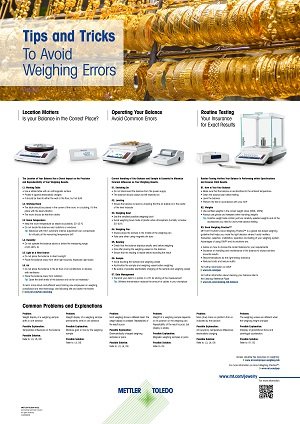 Tips and Tricks to Avoid Errors When Weighing Gold
Make sure you get the most out of your balance by avoiding the common mistakes that can lead to inaccurate weighing results. This valuable poster is packed with useful advice and recommendations on:
Locating your scale in the correct place

Operating your scale

Routine testing
Related Products
Balances with Smart Features
Everyday Essentials for Efficient Weighing
Compact and Portable for Weighing Anywhere
FAQ - Weighing Gold
1. What balance readability do I need for weighing gold?
The requirements for weighing gold vary from country to country. Some countries specify a gold scale with readability of 3 decimal places (1 mg), whereas in other countries, it is 2 decimal places (10 mg). It is important to check local regulations prior to purchasing a new gold scale. METTLER TOLEDO can support you and offers a wide range of 2 and 3 decimal place gold scales.
2. During my gold weighing processes, it sometimes takes a while to get the weighing result. How can I get faster results?
Make sure your gold balance is located away from windows and air conditioning units that could be causing air drafts. Also, try to avoid places with high people traffic. Air drafts can affect the weighing cell of the scale and prevent it from settling. Make sure your scale is on a solid table or countertop so that any vibrations are kept to a minimum. It helps if the scale has a robust, solid construction so that it is less affected by such external influences.

When measuring the density of gold jewelry, it is important that the item is thoroughly wet and all air bubbles are removed. The air bubbles cause a buoyancy effect and can be removed using a fine brush. Make sure all items are at the same temperature: the scale, the apparatus, the water and the jewelry.
4. What is the difference between carat in gold weighing and carat in diamond weighing?
In relation to gold, carat, or karat, (k) is a measure of the purity of the gold. Pure gold is defined as 24 carat (24k). In relation to diamonds, carat (ct) is a unit of weight; 1 carat equals 200 milligrams. As carat is directly derived from the gram, it is a metric weighing unit. Some country-specific units used for weighing gold and silver (e.g. penny weight (dwt)) are non-metric units.
5. Is calibration needed when weighing gold?
When weighing gold, periodic calibration is necessary to ensure ongoing accurate and reliable results. Calibrating your gold weighing instrument will ensure that it reaches standards such as ISO, GMP/GMP, IFS and BRC. Documented calibration procedures verify the quality of measurements, and should be performed regularly throughout the balance's lifetime. Calibration should not be confused with adjustment and must be repeated after adjustment/repairs.
6. Do you have a gold scale with a large weighing platform?
JET and JE gold scales have a large weighing platform so that items can be placed securely on the scale without falling off. METTLER TOLEDO's JP high capacity gold scale can takes loads of up to 16 kg or 32 kg.
7. Can I connect my gold scale to our internal network?
JET gold scales have 3 interface ports - USB host, USB device and RS232 - and are easy to connect to an internal network via the built-in PC Direct function. In addition, JET gold scales offer Bluetooth connection via the optional Bluetooth adapter.
8. Which weighing units does my gold scale have?
METTLER TOLEDO JET, JE and JL scales offer 16 weighing units: ct, g, mg, kg, pound, ounce, troy ounce, grain, penny weight, momme, mesghal, Hong Kong tael, Singapore tael, Taiwan tael, tola, and baht (units may be subject to country regulations). It is easy to change the weight unit at any time. You can even toggle between two selected weight units at the touch of a button.
9. How do I clean my gold scale?
METTLER TOLEDO gold scales are made from high-quality, resistant materials and can therefore be cleaned with a commercially available, mild cleaning agent and a damp cloth or soft paper tissue. Use common cleaning agents such as 70% ethanol or isopropanol, or mild detergents. The weighing pan and balance base are made of stainless steel that is robust and chemically resistant, with the exception that it is not compatible with strong acids. Acetone should not be used, even for highly sticky substances, as it is not compatible with plastic handles, glued parts or the screen.