Weighing Diamonds and Gemstones
Learn How to Best Weigh Diamonds

Weighing diamonds, gemstones, and precious stones requires an accurate, reliable carat scale. Read further to learn more about diamond weighing applications and how to avoid errors when weighing diamonds and other gemstones.
Diamonds are cherished for their brilliance and sparkle, and the way that they disperse light into all the colors of the rainbow. Diamonds are a popular choice for jewelry and for engagement rings in particular, a tradition that dates back to the 15th century when Archduke Maximillian of Austria gave a diamond engagement ring to Mary of Burgundy. The rarity of high-quality diamonds suitable for jewelry purposes adds to their value and desirability.
Diamonds are a form of carbon in an extremely rigid crystal structure. Over a billion years ago, hundreds of kilometers below the earth's surface, the extreme pressure converted carbon to diamond. Millions of years later, volcanic eruptions brought the diamonds closer to the earth's surface from where they are now mined in various parts of the world. Such rough diamonds are cut and polished to produce the prized glittering stones that are used for jewelry.
Diamonds are the hardest known naturally occurring substance and cutting diamonds requires highly skilled craftspeople. The crystal structure of a rough diamond must be carefully assessed in order to make the right cuts to create a diamond that is the perfect shape and size to fit its intended purpose. The hardness also makes the polishing process extremely slow.
The most valuable diamonds are colorless and have no faults (also known as inclusions). As diamonds were being created, the presence of nitrogen gave some diamonds a yellow tint; a blue tint is caused by the presence of boron. The quality, and therefore the value, of a diamond, is graded on a scale known as the '4 Cs': Color, Clarity, Cut, and Carat. Carat (ct) is the unit of weight for diamonds; 1 carat is equivalent to 200 mg. Due to their size and value, weighing diamonds requires a highly accurate diamond scale.
Gemstones such as rubies, emeralds, and sapphires are produced in the same way as diamonds, and the 4Cs grading scale can also be used to assess their quality. In addition, hue, saturation, and tone are further important considerations of the color.
Jump to one of the following sections to explore and learn more:
Diamond and Gemstone Weighing Applications
Diamond Mining
Weighing conditions in a diamond mine can be tough; dust, dirt and vibrations can all have a negative influence on the performance of the weighing cell in a balance or scale. To determine if a potential mine is viable, the weight of ore samples are compared to the final weight of the diamonds obtained from the ore. It can take as much as 7 tons of ore to get 1 carat of finished diamonds.

The rough diamonds extracted from a mine look like large milky-white stones. The rough diamonds are sorted and weighed prior to being shipped to diamond wholesalers. A high accuracy, large capacity balance or scale that weighs in carats to 2 decimal places is perfect.
Diamond Trading

Rough diamonds are sold to wholesalers at diamond bourses and auctions. The wholesalers process the diamonds and then sell them on to retailers for use in jewelry and other applications. Finished diamonds will be accompanied by a grading report from a gemological institute or gemology laboratory that includes the weight of the diamond in carats. As a final step when weighing diamonds, the weight of the diamond(s) is verified and a price agreed.

When selling packets of diamonds, a diamond weighing instrument with a built-in totalization application is highly advantageous to simplify the weighing process and record the individual weight values, the total weight and the average weight. METTLER TOLEDO's JET carat scales and JE carat scales feature a built-in totalization application.

For the tiny 'leftover' diamonds, such as those used in watches, a carat scale with a higher readability or even a microbalance is necessary.
Diamond Processing
Some people consider the cut of a diamond to be the most important C. The type of cut and quality of cut determine how a diamond interacts with light; in essence, it is what gives the diamond its sparkle. A poor cut devalues the diamond. Cutting and polishing a diamond is a time-consuming process.

In processing a diamond from a rough milky-white stone to a desirable, sparkling gem, as much as 60% of the diamond can be cut, ground and polished away. Cutters face the challenge of making the maximum use of the rough diamond in order to minimize loss. The larger the finished diamonds, the more valuable they will be. The smallest diamonds can be used in jewelry such as watches. The diamonds that are too small for use in jewelry, as well as the dust generated from polishing, are used in industrial applications, in cutting tools for example.

According to the Gemological Institute of America (GIA), diamonds are weighed in carats to 3 decimal places (a thousandth of a carat) and then rounded to 2 decimal places (a hundredth of a carat). The weight value is only rounded up if the thousandth of a carat is 9; all other values for the third digit are rounded down. The carat value on a diamond certificate is given to 2 decimal places. On METTLER TOLEDO diamond scales and carat scales, the additional gram scale provides weights to 4 decimal places, offering a higher degree of accuracy. This possibility is important to the cutters who are trying to maximize the total number of carats they can achieve from a rough diamond. In addition, a diamond wholesaler uses many balances and scales and it is important to have consistent performance across them all.

Thanks to a high performance weighing cell and internal test weights, METTLER TOLEDO JET and JE diamond scales and carat scales offer consistent and reliable performance. The internal test weights enable the scales to be adjusted at the touch of a button to ensure ongoing accurate results.

In the grading of diamonds, gemological institutes and gemology laboratories weigh diamonds to 5 decimal places i.e 0.00001 g (or 0.0001 ct). A microbalance or analytical balance is recommended.
Gemstones

Other precious gemstones, such as rubies, emeralds and sapphires, undergo the same processes as diamonds. Whilst the 4Cs diamond scale can be used to assess the quality of a gemstone, its color is often the most important factor. The density of a gem can be used by gemological institutes and laboratories to verify its identity. A density kit can be easily installed on a METTLER TOLEDO JET or JE carat scale for this purpose.

Diamond and Gemstone Know-How
To provide diamond buyers with a common base of comparison on which to judge their purchasing decisions, the Gemological Institute of America (GIA) established a method for describing the quality of a diamond. This is known as the 4Cs and has an associated International Grading System™.
GIA's International Grading System provides a scale for each of the 4Cs against which diamonds can be compared. Gemological institutes and gem laboratories around the world use the GIA 4Cs diamond scale to grade diamonds, providing a consistent way to assess and compare the quality of diamonds for diamond buyers.
The 4Cs of diamond quality are:
1. Carat
The weight of a diamond is measured in carats (ct). One carat is equivalent to 200 mg. Each carat can be subdivided into 100 'points' (i.e. 2 mg). Diamond retailers and jewelry manufactures may refer to a diamond by the number of points it has. For example, a 0.15 ct diamond is a 'fifteen pointer'.
2. Cut
It requires great skill to cut a rough diamond into the required shape for a ring, necklace or brooch, for example. However, the cut also concerns how the diamond interacts with light to give it its brilliance and sparkle. Elements of the cut relate to the properties of the diamond itself (brightness, fire and scintillation), whilst others relate to the skill of the design and production (symmetry, polish, weight ratio and durability).
3. Color
The purest diamonds have no color. However, small structural imperfections or impurities can add a slight hue to a diamond. For example, the presence of nitrogen during the formation of a diamond gives it a yellow or even brown color, whilst boron provides a blue tint.
4. Clarity
Minor structural imperfections, or inclusions, can occur naturally during the formation of the diamond. The size, number and position of the inclusions within the diamond are all relevant to the clarity. A diamond with fewer inclusions will have a higher grade of clarity.
The 4Cs grading system can also be used to assess the quality of rubies, sapphires and emeralds, as well as other gems. However, when purchasing a precious stone, color is often the most important factor. Hue (the actual color), saturation (the intensity of the color) and tone (the lightness or darkness of the color) are essential considerations in the assessment of precious stones.
Verifying Gems by Measuring Density
Diamond is an extremely hard material and has a high density of 3.50 – 3.53 g/cm3 (over three times as dense as water). Ruby has a density of 3.97 – 4.05 g/cm3, emerald 2.67 – 2.78 g/cm3, and sapphire 3.95 – 4.03 g/cm3. In conjunction with other tests, geological institutes, gemology laboratories and gem collectors can measure the density of gems to verify their identity and quickly eliminate fake gemstones.

The density of the gem is determined by first weighing it in air and then again submerged in water. This can be achieved using a dedicated density kit installed on a diamond weighing instrument. The results of determining density by this process are dependent upon the ambient temperature. This must be adjusted for in the density calculation. A diamond weighing instrument with a built-in density application prompts you to enter the ambient temperature and performs all the necessary calculations for you.
Legal for Trade Diamond Weighing
In many countries, where a product is sold by weight, the scale or balance used must be a 'Legal for Trade' version (sometimes referred to as an 'Approved' version). The regulations vary from country to country, and retailers must ensure they meet local requirements. Legal for Trade scales and balances undergo more rigorous testing than a standard scale or balance. Only scales and balances that successfully pass the tests can be declared as Legal for Trade. Such scales and balances are sealed at the manufacturer's site to prevent the scale from being opened by unauthorized personnel.

Do You Need Support?
Weighing diamonds must be done accurately and correctly to ensure you meet local regulations and ensure that you have the trust of your customers.
If you need any further information or support, or would like assistance to choose the right carat scale, our team of experts is here to help.
The Daily Challenges of Weighing Diamonds - Plus METTLER TOLEDO Solutions
Adjusting the level of your scale
Before starting your diamond weighing process, you must ensure your diamond scale is perfectly level for it to work accurately. But how easy it is to check your scale is level and then adjust it when the level indicator bubble is at the back? All METTLER TOLEDO carat scales have the level indicator located at the front. You can see at a glance if your balance is level. Moreover, if you need to make an adjustment, it is easy to monitor the indicator as you rotate the adjustable feet.

Allowing for temperature variations
When the ambient temperature changes, it affects your final diamond weighing result. This can be a challenge in hot or air-conditioned rooms. It is therefore important to adjust your diamond weighing instruments according to the temperature under which it is normally being used. The traditional way to test your scale is to place a test weight of known value on the scale and observe the result. The balance is then adjusted so the scale shows the true amount of the test weight.
Selected METTLER TOLEDO carat scales have internal tests weights so that all you have to do is press a button and the scale makes the adjustment for you. JET carat scales have built-in technology that continuously monitors the surrounding temperature and automatically makes the adjustment whenever it is necessary. This technology (called FACT) also reduces the amount of routine testing that you need to do so it helps you save time and money too.
Achieving fast and accurate results
It can be frustrating when you have placed a diamond on your scale and you wait and wait for the weight result to be shown. Any vibrations or movements of air prevent a scale from settling. The weighing chamber on JET and JE carat scales is the perfect size to allow easy access to place diamonds and gems on the scale, but also small enough so the scale settles quickly. In addition, their robust construction with a solid metal base makes them less susceptible to movements and drafts.
Avoiding moving the scale
When a carat scale is frequently used by many different people, it can easily be moved through frequent pressing of the keys, opening and closing the draft shield doors, and through unintended bumps. These movements, which happen through everyday normal use, can soon interfere with its weighing performance. Each time a scale is moved, the level should be checked and an adjustment made. If you don't realize the scale has moved, your weight results may be inaccurate without you knowing. METTLER TOLEDO JET and JE carat scales have a strong metal base so they sit solidly on your work surface and are difficult to move. The draft shield doors open and close almost effortlessly to minimize the risk of moving the scale.  
Documenting and tracking results
Writing down weight results by hand takes time and mistakes can be easily made. Connecting a printer means results and associated information can be printed out in a matter of seconds. This is particularly useful when using the built-in Totalization application on METTLER TOLEDO JET and JE carat scales. When weighing a series of diamonds, the application keeps track of all the weights and provides the total and average weights at the end. Through the easy connection of a printer, all the results can be simply printed out. To simplify documentation even further, METTLER TOLEDO carat scales have a built-in function (PC Direct) that enables you to transfer your weight results straight to your computer at the touch of a button. 
Waiting for the scale to warm up
To ensure correct performance, a scale needs to be warmed up so that the heat from the working parts of the scale does not affect weight results. JET and JE carat scales feature a stand-by function that eliminates the need for any warm-up period; the scales are ready for use at any time so there is no annoying waiting when you want to get started. Just press any button and you're ready to go.
Accurate and reliable - smart features for trusted diamond and gemstone weighing
All the basic functions you need for your daily diamond and gemstone weighing
Unsurpassed accuracy for weighing for smallest precious samples
Additional METTLER TOLEDO Scales for Weighing Diamonds and Gemstones
For highly accurate jewelry weighing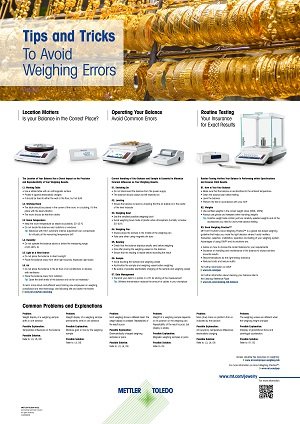 Tips and Tricks to Avoid Errors When Weighing Diamonds and Gemstones
Make sure you get the most out of your balance by avoiding the common mistakes that can lead to inaccurate weighing results. This valuable poster is packed with useful advice and recommendations on:

Locating your scale in the correct place
Operating your scale
Routine testing
Related Products
Balances with Smart Features
Everyday Essentials for Efficient Weighing
High Accuracy for Very Small Samples
FAQ - Weighing Diamonds
Frequently Asked Questions on Weighing Diamonds
1. What is the difference between carat in gold weighing and carat in diamond weighing?
In relation to gold, carat, sometimes spelled karat, (k) is a measure of the purity of the gold. In relation to diamonds, carat (ct) is a unit of weight; 1 carat equals 200 milligrams.
2. What readability do I need for weighing diamonds?
In general, diamonds are weighed in carats to 3 decimal places so the readability required is 0.001 ct. For very small diamonds, a scale with a higher readability such as 5 decimal places, or even a microbalance with 6 decimal places may be required. METTLER TOLEDO's JET and JE carat balances offer the additional benefit of weighing to 4 decimal places in grams.
3. During my diamond weighing processes, it sometimes takes a while to get the weighing result. How can I get faster results?
Make sure your carat balance is located away from windows and air conditioning units that could be causing air drafts. Also, try to avoid places with high people traffic. Air drafts can affect the weighing cell of the scale and prevent it from settling. Make sure your scale is on a solid table or countertop so that any vibrations are kept to a minimum. It helps if the scale has a robust, solid construction so that it is less affected by such external influences

4. Is calibration needed when weighing diamonds?
When weighing diamonds, periodic calibration is necessary to ensure ongoing accurate and reliable results. Calibrating your diamond weighing instrument will ensure that it reaches standards such as ISO, GMP/GMP, IFS and BRC. Documented calibration procedures verify the quality of measurements, and should be performed regularly throughout the balance's lifetime. Calibration should not be confused with adjustment and must be repeated after adjustment/repairs.
5. Can I connect my carat scale to our internal network?
JET carat scales have 3 interface ports - USB host, USB device and RS232 - and are easy to connect to an internal network via the built-in PC Direct function. In addition, JET carat scales offer Bluetooth connection via the optional Bluetooth adapter.
6. How do I clean my carat scale?
METTLER TOLEDO carat scales are made from high-quality, chemically resistant materials and can therefore be cleaned with a commercially available, mild cleaning agent and a damp cloth or soft paper tissue. Use common cleaning agents such as 70% ethanol or isopropanol, or mild detergents. The weighing pan and balance base are made of stainless steel that is robust and chemically resistant, with the exception that it is not compatible with strong acids. Acetone should not be used, even for highly sticky substances, as it is not compatible with plastic handles, glued parts or the screen.
For more information on cleaning your carat scale, download our free cleaning guide.
7. I have heard about 'blood diamonds', but what does that mean?
Blood diamonds, sometimes referred to as 'conflict diamonds', are diamonds that have been traded to provide funds for war. The Kimberley Process Certification Scheme (KPCS) was set up following a meeting in Kimberley, South Africa involving South African diamond producers who wanted to find a way to eliminate the trade in conflict diamonds. The KPCS requires that the member countries in the scheme certify that their diamonds are conflict free. Members are also required to implement legislation for the export, import and internal control of diamonds. Members are only able to trade with other members. The Kimberley Process states that 99.8% of the trade in conflict diamonds is prevented through the actions of its members. The certificate that accompanies the purchase of a diamond by a member of the public should include KP certification.