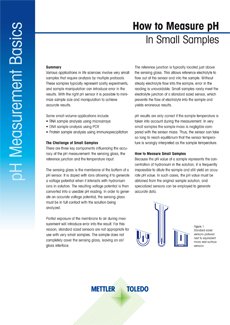 hur man mäter pH
Grunderna i pH mätning
Various applications in life sciences involve very small samples that require analysis by multiple protocols like pH measurement. These samples typically represent costly experiments, and sample manipulation can introduce error in the results. With the right pH micro sensor it is possible to mini¬mize sample size and manipulation to achieve accurate results.
Some small-volume applications:
RNA sample analysis using microarrays
DNA sample analysis using PCR
Protein sample analysis using immunoprecipitation
Table of content:
The challenges of pH measurement in small samples
How to measure pH in small samples
pH micro sensors / pH surface sensors
*Detta dokument är endast avsett för forsknings- och kvalitetskontrollsyften
Get accurate pH results in your small samples
1. The challenges of pH measurement in small samples
There are three key components influencing the accuracy of the pH measurement: the sensing glass, the reference junction and the temperature input.
The sensing glass is the membrane at the bottom of a pH sensor. It is doped with ions allowing it to generate a voltage potential when it interacts with hydronium ions in solution. The resulting voltage potential is then converted into a useable pH reading. In order to generate an accurate voltage potential, the sensing glass must be in full contact with the solution being analyzed.
Partial exposure of the membrane to air during measurement will introduce error into the result. For this reason, standard sized sensors are not appropriate for use with very small samples. The sample does not completely cover the sensing glass, leaving an air/ glass interface.
The reference junction is typically located just above the sensing glass. This allows reference electrolyte to flow out of the sensor and into the sample. Without steady electrolyte flow into the sample, error in the reading is unavoidable. Small samples rarely meet the electrolyte junction of a standard sized sensor, which prevents the flow of electrolyte into the sample and yields erroneous results.
pH results are only correct if the sample temperature is taken into account during the measurement. In very small samples the sample mass is negligible compared with the sensor mass. Thus, the sensor can take so long to reach equilibrium that the sensor temperature is wrongly interpreted as the sample temperature.
2. How to measure pH in small samples
Because the pH value of a sample represents the concentration of hydronium in the solution, it is frequently impossible to dilute the sample and still yield an accurate pH value. In such cases, the pH value must be obtained from the original sample solution, and specialized sensors can be employed to generate accurate data.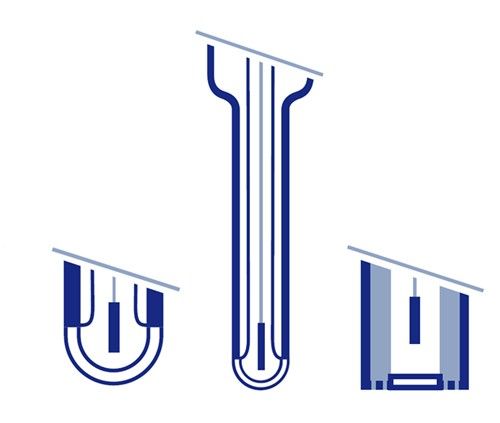 Figure 1: Standard sized sensors pictured next to equivalent micro and surface sensors.
3. pH micro sensors / pH surface sensors