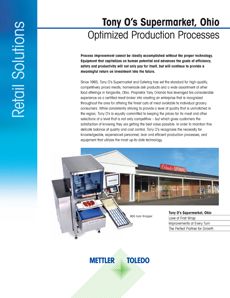 Tony O's Supermarket and the 880 Auto Wrapper
Optimized Production Processes
Since 1965, Tony O's Supermarket has set the standard for high-quality, competitively priced meats and deli products. Proprietor Tony Orlando has leveraged the speed and efficiency of METTLER TOLEDO's 880 Auto Wrapper to advance backroom productivity and increase equipment uptime. 
While consistently striving to provide a level of quality that is unmatched in the region, Tony O's is equally committed to keeping the prices for its meat and other selections at a level that is not only competitive – but which gives customers the satisfaction of knowing they are getting the best value possible. In order to maintain this delicate balance of quality and cost control, Tony O's recognizes the necessity for knowledgeable, experienced personnel, lean and efficient production processes, and equipment that utilizes the most up-to-date technology.

Process improvement cannot be ideally accomplished without the proper technology. Equipment that capitalizes on human potential and advances the goals of efficiency, safety and productivity will not only pay for itself, but will continue to provide a meaningful return on investment into the future.