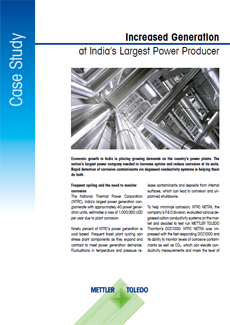 Corrosion in power plants
Corrosion in power plants can have severe and costly effects on plant equipment. Contaminants in water can cause corrosion and in some cases lead to plant shutdowns.
To minimize corrosion in boilers, turbines and piping, process analytical measurements are key in power plant cycle chemistry treatment. In order to minimize corrosion in power plants, various strategies exist for boiler feedwater treatment.
The National Thermal Power Corporation (NTPC) is India's largest power plant company with approximately 40 power generation units. The company needed to reduce corrosion while at the same time increase uptime in all its units.
To help minimize corrosion and increase uptime NTPC evaluated different degassed cation conductivity systems on the market including METTLER TOLEDO's DCC1000. After several months of testing, they purchased a DCC1000 measurement system.
Download the case study to read the full details including the following topics:
Frequent cycling and the need to monitor corrosion in power plants
Fast responding analytics for rapid startups
Less corrosion and greater power generation
 
The Degassed Cation Conductivity System consists of the DCC1000, an M800 transmitter and an integrated flow sensor which are designed to reduce corrosion in power plants.
DCC1000 offers precise detection of corrosive contaminants as well as CO2, which can elevate conductivity measurements and mask the level of other impurities. It provides fast startup and simpler turbine warranty compliance. The M800 is a multi-parameter transmitter, which displays all measurements on a single screen and allows for easy monitoring of sample conditions. The integrated flow sensor with automatic heater shut-off if flow stops, protects the system from thermal damage.